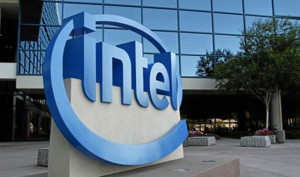 Intel and Etisalat Misr, one of the leading telecom operators in Egypt, have announced the launch of the Middle East's first smartphone with Intel Inside – the new Etisalat E-20 smartphone.
The Etisalat E-20 smartphone is said to be targeted at the growing number of smartphone buyers in the Middle East and North Africa region who do not want to sacrifice device performance or user experience. With more than 91 million mobile subscribers and mobile penetration that has increased to 116.94% in Egypt in the last year (representing an annual growth rate of 14.19% compared to 2011), Intel and Etisalat see this as good growth for Smartphone business potential in the region.
The handset will be available at all Etisalat stores across Egypt, and is equipped with the  Intel Atom Z2420 processor with Intel Hyper-Threading technology that can achieve speeds of up to 1.2 GHz. The powerful device offers consumers fast web browsing, impressive multimedia capabilities and an Android applications experience. The Intel Atom Z2420 processor brings Intel's classic product strengths and impressive performance to the value segment of the smartphone market.  It enables a smooth and responsive user experience, which includes support for1080p HD video capture, and a camera with advanced imaging capabilities, including burst mode that allows people to capture seven pictures in a second in 5-megapixel quality.
"Our new E-20 Smartphone is yet another breakthrough for Etisalat Misr as a market leader in offering the latest technology to its customers" stated Saeed AlHamli, Etisalat Misr Chief Executive Officer. He added "We always strive to partner with the best, and this is why we chose Intel to provide this superior processor for our phone. We are optimistic about this partnership, and believe it will be fruitful for both of us".
"We are delighted to partner with Etisalat Misr to bring first smartphone with Intel Inside to Egyptian consumers," said Mike Bell, Vice President and General Manager of Intel's Mobile and Communications group. "The new handset will extend the rich capabilities and benefits of Intel technology to more smartphone users around the world and we believe that Egyptian consumers will welcome the overall value and functionality of the device."
"Today's announcement builds on Intel's growing device portfolio worldwide." said Aysegul Ildeniz, Intel Regional Director of the Middle East, Turkey and Africa. "Intel has been collaborating with customers from around the world to address the growing demands of consumers seeking smartphones with higher performance capabilities, which is why we are so excited to introduce the first Intel based Smartphone in Middle East and North Africa region with Etisalat."
The device is housed in a compact design and features a 3.5-inch touchscreen display for crisp text and images, support for FM radio and an expandable memory slot for greater flexibility, and HSPA+ modem support with Intel's XMM 6265 modem for global roaming.