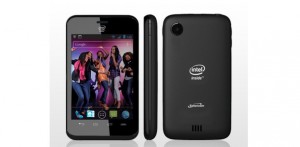 Intel on Friday announced the release of a new entry-level smartphone designed for emerging markets, which it has created in partnership with Kenyan communications provider Safaricom.
The new device has been dubbed the Yolo.
It is powered by an Atom Z2420 SoC, a 1.2GHz chip based on a 32nm process and boasting support for 1080p video and 8-megapixel image capture. The Yolo will be an Android-based device, though Intel did not indicate which version of the mobile platform would be used. It will also have a 3.5-inch screen, HSPA+ capability and support for global roaming.
Aysegul Ildeniz, Regional Director for the Middle East, Turkey and Africa, Intel, played up the Yolo's potential appeal to African customers.
"The new handset extends the benefits of Intel technology to more smartphone users around the world and we believe that Kenyan consumers will welcome the increased functionality and overall value of the device," she said in a statement.
Peter Arina, General Manager, Consumer Business Unit, Safaricom, highlighted the device's cost-efficiency.
"The Intel-based Yolo smartphone strikes a unique balance between price and performance — we consider it to be a real breakthrough," he said.
The Yolo's initial price is 10,999 Kenyan shillings (about $126), which includes 500MB of free data service as a starter package.
Since last year, Intel has been working to bolster its presence in the mobile market, and the company made a splash with the Motorola Droid Razr i. The firm has been apparently hesitant to attempt to challenge ARM's dominance in the U.S. directly, however, as no major Intel-powered devices have yet been made available on American carriers.