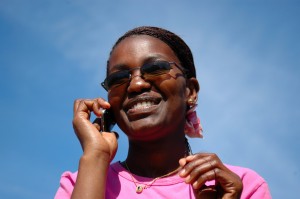 The news that Web services giant Baidu will bring its mobile browser to Africa, in a deal struck with France Telecom's Orange unit, is yet another example of Chinese telecoms firms turning the continent into a battleground for the business war against the likes of Google.
Baidu joins other Chinese companies including telecom equipment vendors Huawei Technologies and ZTE in seeing Africa as a promising market.
Baidu's announcement with Orange follows Google's move last year to enter a deal with South Africa's giant telecom operator Telkom's cellphone network unit 8ta, to offer free Internet access to mobile phone subscribers who cannot afford typical data-usage costs.
In Baidu's case, the deal with Orange is its largest international expansion to date. The deal covers 20 countries in the region, where Orange has more than 80 million subscribers. Orange will pre-install Baidu's mobile browser for users of Android-based mobile phones in Africa and the Middle East.
Orange plans to ship the first smartphones preloaded with the browser later this year. The main benefits for users will be the browser's enhanced data compression capabilities and one-click access to Web-based apps and services.
Meanwhile, Google is powering the Free Zone service, which gives people access to mobile Gmail, Google+ and Web search with zero data charges. However, when a user clicks on a link or attachment within an email, they are directed to a page on which they can purchase a data package. Additionally, users can search the Internet and access the first page of websites from the search results for free. However, if they click further into a website, they again are directed to a page offering data packages that require payment.
Google also rolled out a new service in Ghana, Nigeria and Kenya last year that lets Gmail users send and receive emails using the built-in SMS features on their mobile phones for free. Google's free email service is also active in Zambia through operator Zambia Telecommunication Company (Zamtel), a government-owned telecom company.
The companies want to consolidate their positions by offering free services, to pave the way for a growing number of users paying for services, according to Amos Kalunga, Telecom Analyst, Computer Society of Zambia.
"Or it may be that the companies want to control the browser first on smartphones and then later control the search," Kalunga said.
Africa's appetite for mobile Internet services has been growing steadily over the past few years, mainly as a result of the flattening growth curve in voice communications in the region's more mature markets, forcing operators to cut prices and compete more aggressively on the provision of data services.
"Orange recognises that Internet usage in emerging markets is more likely to be via low-cost small screens," said Emeka Obiodu, Principal Analyst for Telecom Strategy, Ovum Research.
As a result, Orange and Baidu will seek to deliver enhanced data compression capabilities so as to reduce the strain on Orange's network and the cost for users, Obiodu said.
But Baidu's deal with Orange may limit the firm's manoeuvrability in the market, Obiodu said. If Baidu sticks to Orange exclusively, it will depend on Orange's expansion of its geographical footprint. "Over time, this lack of manoeuvrability will influence, and maybe undermine, Baidu's ability to exploit emerging opportunities in the market," he added.
Google has prospered by maintaining its independence, even though it has sought partners on a tactical, case-by-case basis.
Meanwhile, Baidu joins a growing list of Chinese companies looking to get a slice of Africa's lucrative mobile and data market. Chinese manufacturers of low-cost networking equipment and smartphones Huawei Technologies and ZTE are using their emerging market expertise to cash in big as customers upgrade to data-enabled handsets from basic phones.
Baidu is expected to get a big cut from the sales of low-cost smartphones by Orange, in addition to revenue collected from data usage. Orange has stressed that it believes Africa will be the world's most dynamic telecom market over the next few years, and that the Baidu deal will help further drive mobile data adoption in markets where the operator is already seeing increased demand for Internet access via smartphones.
In anticipation of growth in the region's data market, Orange has recently been deploying 3G networks in countries where it has operations. Mobile data and broadband technologies are increasingly being used by operators as a substitute for poor or non-existent fixed-line infrastructure in the region.
Social media networks including Facebook and Twitter are said to be responsible for the high demand of smartphones in the region. Marc Rennard, Senior Executive Vice-President, Orange Middle East and Africa, said that Africa's appetite for Internet services is very strong — a key reason for the deal with Baidu.
"Price and access have been a barrier to entry but partnering with innovative companies like Baidu provides unique solutions that gives our customers affordable access to all services they desire without compromising on features or ease of use," Rennard said.