GBM hosted its DX Executive Summit at the St Regis hotel in Abu Dhabi, where experts discussed the ways that organisations can transform themselves through forward-thinking technology solutions and processes.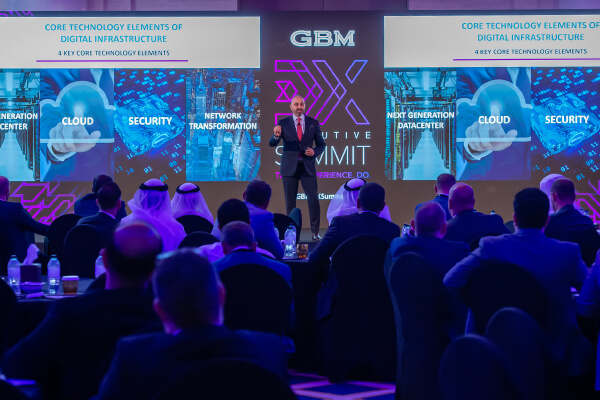 GBM gathered a range of technology experts to discuss some of the most pressing challenges that organisations now face in transforming themselves. Miguel Khouri, GBM's general manager for Abu Dhabi, kicked off proceedings by announcing a study that GBM has released with IDC which looks at transformation 'inhibitors'.
"The UAE government has taken major steps to unlock new revenue streams through innovation," he said. "Public and private sectors have made strides to enhance technological capabilities across the cloud, AI and big data spaces. They'll be crucial in achieving the UAE's digital transformation aspirations across industries. Organisations have been looking to achieve outcomes around agility, efficiency and customer experience and satisfaction, as well as new opportunities for profit growth.
Mubaraka Ali Ibrahim, IT director of the UAE's Ministry of Health and Prevention, discussed the Ministry's strategy for digital transformation and the ways it is looking to improve levels of patient safety. "There's no one-model-fits-all for development," she said. "Patient safety is the most important aspect of digital transformation for us. Quality of service is about delivering the levels of patient service that people need whenever and wherever they require it. There need to be less errors and the best quality of service. We need to analyse information to decide upon the best ways to do that."
IDC's group vice president and regional managing director for the Middle East, Africa and Turkey Jyoti Lalchandani followed Ibrahim. "There are a few key phases of transformation," he said. "New technology foundations, networked innovation, then sustainable scaling – the age of autonomous systems where machines make decisions for themselves. We're in the middle of the second chapter of the third platform. As a CIO, you're grappling with the transformation of the technology industry and new realities of the business. CIOs in the UAE are striving to do more with the same or a lower budget. 65% of companies in the UAE report that budgets will be flat or even decrease over the next year. About 35% say they will increase in the coming year."
GBM's vice president of intelligent network solutions, security and mobility, Hani Nofal, followed Lalchandani by diving into deeper detail around how organisations can break the "digital deadlock". "Organisations want to be more agile, improve operational efficiencies, generate new revenue streams and create new customer experiences," he said. "The digital deadlock describes the ways that organisations are unable to transform and become digital. "The key inhibitors include a lack of agile, secure technology infrastructure, having information silos, and outdated, highly manual business processes. You will sleep better at night if the infrastructure is secure and resilient. Less than 1% of total data today can be processed. The most important thing is about how you turn data into insight for business to push forward and innovate."
Ian Fletcher, IBM's director of its Institute for Business Value for the Middle East, discussed some of the emerging technologies and trends that organisations will need to consider in the future. "Boeing's CEO said that he would disrupt his own business before anyone else does," Fletcher said. "Using our genetic ink, we can now 3D print organs. A 3D-printed heart was recently developed in Israel. Neuropmorphic computing means we now have chips that know the synapsis of the human brain. It means chips that have 1 billion nodes on a square centimetre. IBM has kept these things under wraps for a long time, and has put Watson on top of it.
"Quantum computing can solve the problem of exponential data. It's the big hammer to crack the data nut. Quantum can read 1's and 0's simultaneously. That means it can read a whole library in one go. Quantum won't be here in five years' time – it's here today. A 50 cubit machine, which is not far off, could break every 6-digit pin code globally in banking. In 100 seconds it can break what would've previously taken 2 billion years. Quantum goes straight to the algorithm and skips the application."
The day rounded off with a panel discussion featuring a range of industry experts, including: Jose Sanchez, SVP, B2B pre-sales, service delivery and customer care, Etisalat; Ali Aljaeedi, head of transport technical infrastructure, Abu Dhabi Department of Transport; Faisal Fayyaz, SE manager, VMware, Middle East, UAE and Gulf region; Omar Ma'ayah, cybersecurity consultant, Cisco and Cherif Morcos, vice president, software solutions, GBM.