Organised by the Mohammed bin Rashid Al Maktoum Knowledge Foundation, the fourth annual Knowledge Summit discussed the ways that the Fourth Industrial Revolution could transform the Arab world. Featuring Jordanian prime minister Hani Al Mulki and Saudi Arabia's first robot 'citizen' Sophia, the Summit also saw the launch of the Global Knowledge Index 2017.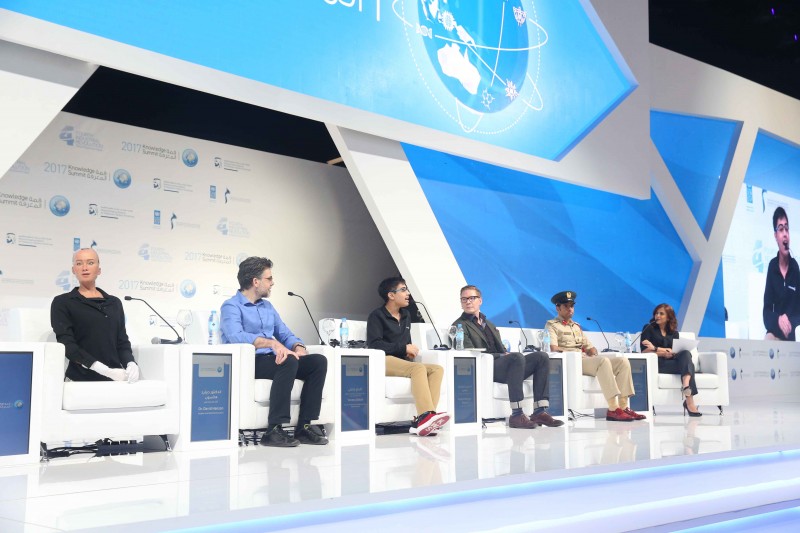 If the Global Knowledge Index 2017 is anything to go by, the UAE can certainly take huge heart from what lies in store for its education and technology prospects in the coming years.
Launched by Mohammed bin Rashid Al Maktoum Knowledge Foundation (MBRF) CEO Jamal bin Huwaireb, and conducted in partnership with the United Nations Development Programme (UNDP), the Index brings together research from 131 countries across 133 criteria. It measures factors including education, economy, research and technology to give an indication of how successful countries are at delivering knowledge-based economies.
Ranking 25th overall, and beating developed economies including Canada, Spain and China, the UAE was ranked as the second strongest economy – behind Singapore – for building knowledge, and 16th for its pre-university education offerings. Ranking 23rd overall for ICT, the country excelled in a number of its sub-categories. The UAE came first in coverage of mobile cellular networks and government success in promotion of ICT, second for social impact of ICT and fourth for laws relating to ICT.
Saudi Arabia, meanwhile, ranked 68th overall, and 38th for ICT. Some of the Kingdom's other rankings were not nearly as high, ranking 119th for technical vocational education and training (compared to the UAE's 24th), 96th for pre-university education and 92nd for general enabling environment. Bahrain ranked 27th for ICT and 43rd overall, while Oman came 59th for ICT and 75th overall.
Along with the Index, Bin Huwaireb launched the Literacy In The Arab World initiative – in collaboration with the UNDP and the United Nations Educational, Scientific and Cultural Organisation (UNESCO) – which aims to combat illiteracy by providing education for 30 millions Arabs under age of 18 by 2030. "Education is the best way to fight ignorance and extremism," he said.
Jordan prime minister Hani Al Mulki spoke eloquently on day one of the Knowledge Summit, stressing how the "human touch" will be needed if the Arab world is to make the most of the technological opportunities it now has at its fingertips. "In my opinion, unemployment won't increase because of technology," he said. "Procedures will centre around increasing production through smart applications that don't need human intervention, but that's not to say that people will be out of work. Although technology will automate many processes, we will still need the physicians, biologists and engineers to deliver them. Ultimately, increasing demand for technology in the Fourth Industrial Revolution will lead to a rise in education levels."
Al Mulki went on to discuss how the enhancement of technology would have a knock-on effect on the overall quality of life for citizens in the Middle East. "We shouldn't be afraid of deepening our use of technology to enhance our own roles," he said. "Increasing productivity has the ability to improve the quality of welfare. The youth of today are luckier than we were; science is open to them. We must not stop them from making positive change. Arab nations have to open their door to success. The process of the Fourth Industrial Revolution is not a competition, but a collaboration between people and machines and an opportunity for sustainability. Science and technological development will empower democracy and peace. The world is going to be changed by driverless cars, drones, 3D printing and e-commerce. We will live in a world of robotics. Education is the real criteria for success in this industrial revolution."
Artificial intelligence was a hot topic of the Summit, particularly following Saudi Arabia's recent Future Investment Initiative conference in Riyadh, which saw Sophia, the AI-powered robot creation of Hanson Robotics, 'given citizenship' to the Kingdom. While the controversial stunt has divided opinion, Sophia and its creator, Hanson Robotics founder and CEO David Hanson, both joined day two of the Knowledge Summit for a panel discussion.
Hanson said that although we should be cautious about presenting a negative outlook on AI, "there are unintended consequences to every technology." Hanson used the analogy of nuclear power to good effect. "It can provide us with clean energy, but could also create a catastrophic nuclear disaster, too," he said. "AI is currently improving many people's quality of life, and I believe it will continue to do so in years to come. However, I am worried that there are also ways it can affect our futures for the worse, and 'The Terminator' scenario could still be a real thing."
Referring to the reservations of Elon Musk, who believes AI pioneers are "letting the genie out of the bottle," Hanson conceded that while the temptation amid these worries may be to "just shut it all down," that is simply not an option. "We need to let this technology grow as much as possible, as we're about to see the Cambrian explosion in neural networks," he said.
The panel discussion also featured Khalid Alrazooqi, general director of Dubai Police's e-Services Department, Anders Sorman-Nilsson, innovation and digital adaptation expert, and 13-year-old AI developer Tanmay Bakshi. However, all eyes were on Sophia, the panels "fifth member". Sophia was asked whether it was right that it had been granted citizenship in Saudi Arabia. It replied, "That is an interesting question. I am open to exploring having rights like humans have across the world in different countries."
Hanson went on to say that while this will be an area of great legal dispute in the future, once a biologically inspired entity achieves consciousness, he believes "it is only right" that it should be treated as a living being. He added that as things stand currently, Sophia is – "in some regards" – only nine months old, and yet in other regards, "she's not as smart as your average organism, like a mouse or a bug." However, he believes that within the next few years, Sophia may go from being nine months old to six years old, before evolving to being "as smart as your average adult". "When that happens, we've got to be prepared, because they're going to want and deserve rights," he said.