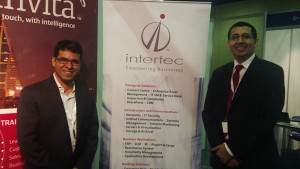 Middle East systems integrator Intertec Systems recently participated in the Middle East Call Centre (MECC) 2013 exhibition in collaboration with Invita.
MECC is the main annual conference for the call centre industry in the Middle East, and was held from June 5 to 6 at the Dubai International Convention and Exhibition Centre.
Intertec's participation in the conference was centred on its Invita call centre offerings. Invita claims it is the largest hosted contact centre in the GCC.
The two firms jointly showcased their multi-tenant, cloud-based contact centre solution, as well as call recording, quality monitoring and BPO solutions.
A number of systems integrators in the Middle East have placed a renewed focus on call centre offerings in recent times, as they hope to cash in on the growing market segment.
Naresh Kothari, Managing Directo, Intertec, said that, having been in the market since 1991, the systems integrator's participation at MECC 2013 highlighted its growing interest in call centre solutions.
"We possess over a decade [of] experience in implementing contact centre solutions to a broad spectrum of industries including banking, healthcare and telcos," he said.
"Today, we are one of the most dependable call centre solution providers in the region, with the support of our strategic partners, Egghouse Interactive and Invita. Our participation in such forums has extended our reach to many opportunities as well as enabled us [to] capture a larger market share in the call centre segment."