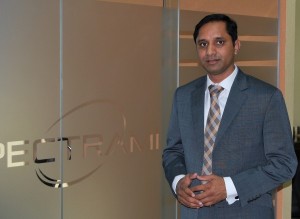 Spectrami recently held a TechCafe workshop with General Dynamics Fidelis Cybersecurity Solutions to address the concerns over IT security attacks among enterprises in Saudi Arabia.
Representatives from industries such as telecoms, banking, government and healthcare were the target audience of this TechCafe event, which aimed to update visitors on the disruptive nature of advanced threats for businesses.
Held at the Hotel Marriott in Riyadh, Saudi Arabia, the latest edition of the TechCafe series of events also highlighted how Fidelis can secure enterprises against advanced threats.
The vendor has been ranked Gartner as one of the leading specialised threat detection solution providers in the world, Spectrami said.
During the event, Sarfaraz Kazi, Technical Director, Spectrami, gave a presentation on advanced threat defence, specifically addressing enterprises in Saudi Arabia. He also provided several examples from across the globe of recent advanced attacks, as well as discussing how Fidelis can be effective in protecting enterprises against such attacks.
According to Spectrami, the event was well-received by visitors, who hailed from organisations such as Mobily, Arab National Bank, Samba Bank and the Saudi Ministry of Finance.
"TechCafe provides an excellent platform for both technology provider and technology user to understand each other's requirements, which helps in selecting a right technology and right solution," said Anand Choudha, Managing Director, Spectrami.
"Fidelis offers the best-of-breed technology solutions for the management and [the] prevention of advanced threats to the enterprises in Saudi Arabia."