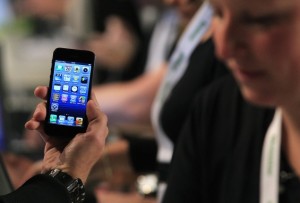 New research from Experian Marketing Services shows that iPhone owners spend 53.06 percent more time on their phones than Android users do.
Does this suggest that iPhones are more useful than Android smartphones?
The average iPhone user spends one hour and 15 minutes on their device every day. This is substantially more than Android users, who spend 35 percent less time, around 49 minutes, on their handsets.
However the popularity of certain activities differs per device. Android phones are more frequently used for talking than iPhones are. Android users spend 28 percent of their time on their phone making voice calls, while iPhone users spend 22 percent of the time making phone calls.
iPhones users, on the other hand, are more likely to be using their device for texting (22 percent) compared to Android users (16 percent).
Android owners spend 16 percent of the time on their device browsing the Web, while iPhone owners only spend 12 percent, which may suggest that people prefer larger screens for visiting websites. Although, given the fact that iPhone users are already spending more time on their device the time spent browsing the Web is likely more (in fact other date suggests this is true).
iPhones lead the way in social networking, sending emails and taking pictures.
Both Android and iPhone users spend little time watching videos and reading, each accounting for less than 1 percent of mobile phone usage everyday. This information may suggest that users prefer to watch videos and read books on tablets, which have bigger screens.