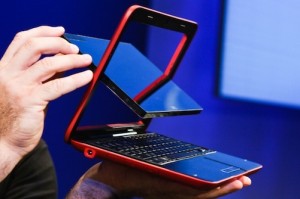 Dell has once again thrown Windows 8 under the bus, saying the unpopular operating system contributed to a decline in its PC-related revenue during the quarter that ended May 3.
"Windows 8 has been… not necessarily the catalyst to drive accelerated growth that we had hoped it would be," said Dell CFO Brian Gladden in a recent conference call with Wall Street analysts to discuss the company's quarterly financial performance.
It was the second time that Dell has tried to explain away lacklustre sales figures by pointing a finger at Windows 8.
In March, Dell said the operating system was to blame for its financial woes in documents filed with the U.S. Securities and Exchange Commission as part of CEO Michael Dell's effort to take the company private.
In its latest quarterly report, Dell said revenue from sales of PCs, third-party software and peripherals – what the company collectively calls end-user computing – was down 9 percent from the same period a year earlier. Desktop revenue was off 2 percent, and revenue from what Dell dubs "mobility," or notebooks and tablets, was down 16 percent.
But with a Windows 8 update expected to launch in October Gladden said he has hope that sales will improve later in the year.
And given the fact that, by Microsoft's estimate, one-third of enterprise computers still run Windows XP, Gladden also cited upgrades to Windows 7 as a ray of hope. "It's driving a refresh cycle," he said.
But Brian Marshall, an analyst at ISI Group, said in a note to clients that PC shipments could decline as much as 10 percent to 20 percent over the next three to five years before stabilising.
Nonetheless, Dell has previously said that it won't abandon Windows 8 or Microsoft's tablet-oriented offshoot, Windows RT, and Gladden reiterated that support, saying, "It's really up to us to create that opportunity and that ecosystem to drive that growth going forward."