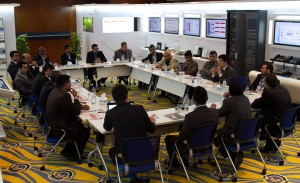 CNME partnered with Huawei for a leadership roundtable conference to discover how hotels and residential buildings can "jump on the mobility bandwagon without falling off".
Not many hotel CIOs would disagree that the number one challenge facing the industry right now is the mobility trend, driven by the bring-your-own-device (BYOD) phenomenon.
The question is, however, how serious are they taking it in the Middle East?
An exclusive roundtable prepared by CNME and hosted by Huawei on May 29 set out to answer just that.
Huawei's Enterprise Business invited IT executives from construction companies, hotels, and property development companies, as well as consultants, to a leadership roundtable conference to find out how hotels and residential buildings can "jump on the mobility bandwagon without falling off".
Today's travellers demand their smart devices to be quickly and seamlessly connected wherever they are. They want to update their social networks, check their emails, and even participate in virtual board meetings — all whilst sitting in the hotel lobby with their laptop, smartphone or tablet.
This reality is changing the priorities of the hospitality business. It's causing hotel owners and their teams to reanalyse the factors driving their business, and question how they can capitalise on it whilst maintaining a high level of security.
The roundtable showed attendees how they can harness the latest mobility technology to drive business, yet assure their clients that their network infrastructures are reliable, stable and secured from cyber threats.
Asfar Zaidi, Principal Consultant, Huawei Enterprise, Middle East, kicked off the event with an introduction into the trend.
Zaidi went through the IT trends revolutionising the hospitality industry, pointing to cloud, mobility, social media, bandwidth demand, personalised systems, integration, and energy management systems. Joe Tesfai, CIO, Atlantis the Palm, said in-room mobile controls should be added to that list.
According to Zaidi, mobile multimedia is leading the "third wave" of the hotel experience. The first wave was the fixed phone era in the 90s, the second wave was the IP phone era — where the location was still fixed — in the 00s, and now the third wave this decade is all about anytime-anywhere and self-serving access.
Zaid went on to cite research which asked hotel-goers what amenity is a must when choosing hotel accommodations. Number one on the list (at 38%) was free Wi-Fi. In another report, 48% of business hotel-goers said free Internet access was important when choosing a hotel, compared to 49% saying quality of service, and 47% saying price.
This sparked a debate in the room about whether hotels should charge for Wi-Fi. The hotel CIOs in the room were of the opinion that — due to the high cost of bandwidth in this part of the world — Wi-Fi should be charged because it is not otherwise sustainable to offer high-speed Internet. However, consultants in the room questioned the logic in offering things like free breakfast to guests, but not free Wi-Fi.
Expanding on Huawei's own hotel mobility technologies, Zaidi emphasised the importance of implementing a "complete solution", which includes "one-stop" service with convenient adaption to the corporate business systems, a "cloud-pipe-device" without security vulnerabilities, and an effective MDM (mobile device management) platform to keep track of all the devices.
As a case study for this, he referred to Shanghai Tower, which will open in 2015 as the fourth highest building in the world. Shanghai Tower has worked with Huawei for a complete end-to-end solution based on a "green building design", and to suitably set the tower up to embrace mobility and BYOD.
However, the point was made that Shanghai Tower was in a position to map out its infrastructure from scratch to allow for the mobile evolution, whereas hotels and building built prior to the introduction of smartphones and tablets are in a far more difficult position.
Tesfai said Atlantis was built in 2008 just before the iPhone kicked off the "mobility evolution". Subsequently, whilst Atlantis built a very expansive Wi-Fi infrastructure, it was only designed to cater for laptop Wi-Fi.
"It didn't cover balconies and bathrooms," Tesfai said. "Nobody did at the time because it was before the smartphone evolution happened. Now we have to fix the gaps, and Internet is very expensive in the UAE. We need to increase the pipe of Wi-Fi by a large amount, whilst at the same time stopping malicious activities.
"The biggest aspect is the cabling infrastructure. You have to get that 100 percent right, and we did that very well. Retrofitting is very expensive. Luckily we didn't have to do that — we just have to change the access points. But preparing for mobility is indeed an expensive task."
Shebin Hassan, Executive Director, Flora Hospitality, said the size of the hotel also makes a big difference, and testified that setting up for BYOD can be very costly.
"When you have 1,600 rooms, Wi-Fi has got to be controller-based and it's got to be intelligent, because if you need to manage it centrally you need the right facilities," Hassan said.
"What we did with our existing hotels a few years back was make sure we had an access point in every room. I have two properties near the city centre. They've got 298 apartments, but because these are studios, one-bed and two-bed apartments, we've got 772 rooms including living rooms, meaning we have 772 access points."
Hassan said doing this would normally be very expensive, but by opting for non-branded, cheap access points, which were not controller-based and just worked in the room, Flora was able to save costs.
"However, there is a risk with going with that model because if your power trips or something like that, somebody has to go from the Wi-Fi room all the way to the guest room to fix it."
In Flora's new project to build a hotel next year, it has tested five to seven brands and found that controller-based access points are Dhs800 or more, whilst ordinary ones are no more than Dhs150.
"We felt that having controller-based access points would be a desirable feature rather than an essential feature," he said.
But Flora has ultimately decided to keep a criteria for access points to be BYOD-based, because anytime there is a hanging issue, somebody just has to reset from the switch.
Whilst the roundtable was quite UAE-centric, the general feeling was that mobility is a serious priority across the Middle East, and Africa too.