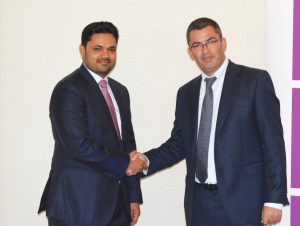 Global enterprise applications company IFS has signed an agreement with Dubai-based ISYX Technologies, a business technology consulting company, as a channel partner.
The partnership will help deliver IFS's product portfolio to customers across the Middle East and Africa. Drawing on the companies' long and successful track record in areas such as aviation, construction, manufacturing, and asset intensive industries, ISYX will work with IFS to build a strong customer base.
As part of the agreement, ISYX will market and deploy IFS's complete range of enterprise applications including enterprise resource planning (ERP), enterprise asset management (EAM) and field service management (FSM) for its customers across the MEA region. The systems integrator is also investing in training and certification of its presales and delivery teams through the IFS Academy. By building local competency and capabilities in IFS Applications, ISYX will help customers transition through the digital era.
"We are excited to be developing joint opportunities with IFS and look forward to a rewarding partnership," said Sharoon Shamsuddin, CEO, ISYX Technologies. "IFS is a globally recognised leader in enterprise software, and coupled with our global presence in ten countries servicing 500 plus customers, the partnership will empower organisations to advance their digital transformation by adding value and industry expertise."
Shamsuddin added that the firm's approach is to adopt the role of an 'advisor' to its customers, understand their business challenges and address them by providing fully integrated end-to-end solutions to support their complex business needs.
"Partnering with IFS has helped us further strengthen our solutions portfolio. We look forward to working closely with their global and local teams to provide our customers with the highest levels of service and support through all phases of the deployment and increase IFS's footprint and market share in the MEA region."
Luis Ortega, managing director, IFS in the Middle East, South Asia and Africa, said, "We are pleased to announce the partnership with ISYX Technologies and we expect that our cooperation will result in a growing customer base in the Middle East and Africa."