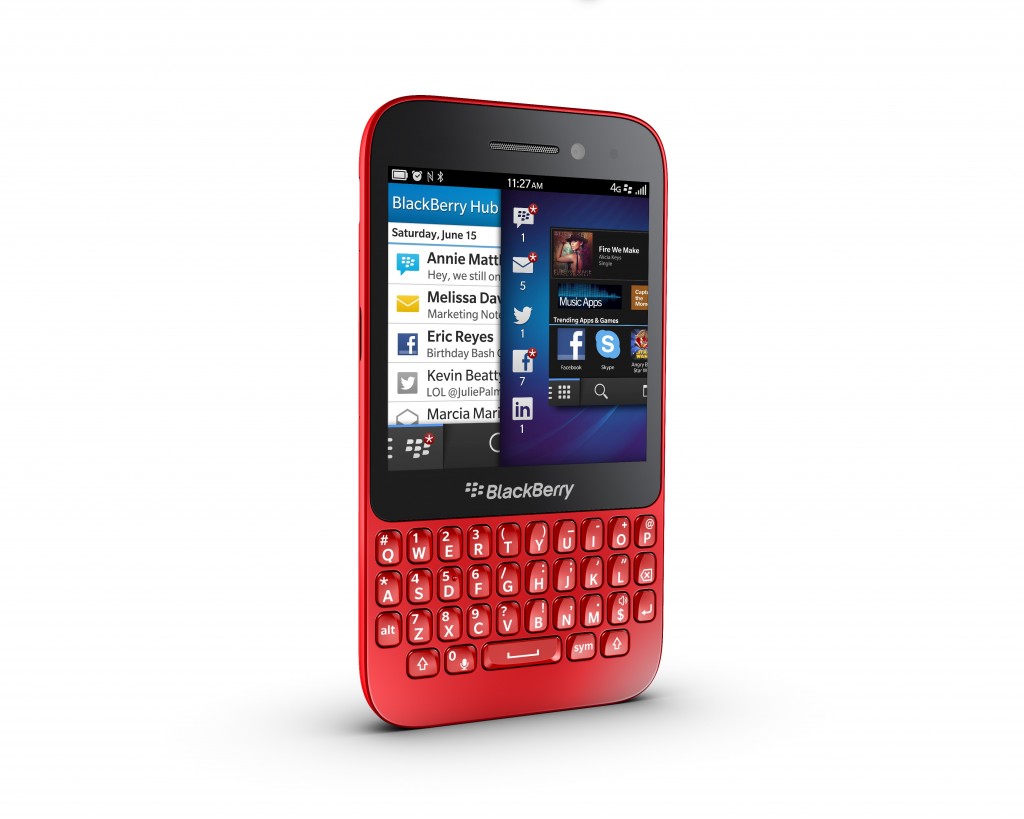 It's an art to begin a presentation with a bang – and Thorsten Heins, CEO, BlackBerry seemed to have mastered that. The Blackberry Live 2013 started this morning in sunny Orlando with the opening speech by Heins announcing the launch of Q5 – a new and funky smartphone, with a QWERTY keyboard, which received thunderous applause. 
This Q5 is the third phone in the company's new BlackBerry 10 lineup and the first targeted at consumers in emerging economies.
"BlackBerry is excited to bring a new BlackBerry QWERTY smartphone, the BlackBerry Q5, to our customers in selected markets around the world," said Heins.
"The BlackBerry Q5 gives you the best of everything with its cutting-edge BlackBerry 10 functionality and a physical QWERTY keyboard."
BlackBerry says the Q5 gives customers the best of both worlds – a classic QWERTY keyboard for optimised communications and a 3.1″ touchscreen for all the rest.
Thorsten also spoke about the BlackBerry 10 platform and said that it has been completely re-designed and re-invented to show that Blackberry understands mobile better than anyone else. "Mobile is in our DNA," he stated enthusiastically to a rapturous crowd.
He also took this opportunity to announce the launch of Enterprise 10.1 and said that it will roll out with the Z10 users as of today. "We are working towards being the premier mobile platform and to cater to the mobile working population. According to IDC, by 2015, the mobile workforce will be 1.3 billion people and these applications have to serve the mobile population," he remarked.
BlackBerry Enterprise Service 10 version 10.1 is free to download and existing BlackBerry Enterprise Server 5 customers can exchange their client access licenses for free through 2013. To date, 12,000 BlackBerry Enterprise Service 10 servers have been installed by customers around the world.
So where is BlackBerry now?
Pretty much there, according to the CEO.
BlackBerry right now has the ecosystem, privacy, security, flexibility and a global data network and it is working towards weaving all this together for their customers.
Kristian Tear, COO, BlackBerry took the stage to talk about two issues which are very important to BlackBerry- security and protection. "We have laid the foundation of security for all our mobile end points irrespective of the platform," he pointed out.
The Chief Marketing Officer (CMO), Frank Boulben said that when he joined nine months ago, BlackBerry had a lot of issues- reputation, fragmented marketing, dilution of brand ( with Bold, Curve, Torch) and the marketing spending not being used wisely. "So we started by unifying the marketing team globally in order to be consistent and then we focused on two things – brand and customers. Everything now is centres around BlackBerry- BlackBerry is the front and the centre and we have moved away from being a 'house of brands'. There is only one brand. And our customer are hyper-connected, multi-taskers so we have worked on supporting them and providing them with all the needed applications," opined Frank.
So what were the highlights of this morning?
Well, first was the announcement of the low-cost Q5.
Second, BlackBerry Messenger (BBM) will be available on Android and iOS from this summer.
BlackBerry now has close to 120,000 apps as compared to 70,000 last year.
And lastly, BlackBerry is back on solid ground, it claimed.
CNME is reporting live from BlackBerry Live in Orlando.