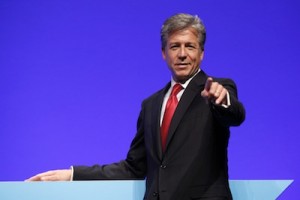 Co-CEO Bill McDermott raised the roof of the Orange County Convention Center in Florida today during the opening keynote of SAP's annual customer conference Sapphire Now.
Focusing on smart technologies, technology delivery times, and security in the business – McDermott adopted a sports theme, announcing that sports and media recently became the 25th vertical that SAP is now working in.
During a short speech, McDermott announced that SAP is now a business to business to consumer brand – focusing fully on the experience of the consumer, and dedicating itself to improving the service for each and every individual – tying this in with the sports theme, he took the view point of the average sports fan consuming sports around the world via a number of mediums.
"Everything we do shares one theme; it comes as innovation without disruption for you," he said.
Committing to HANA
SAP claims that HANA technology is now to be the platform for every single that it does going forward.
McDermott claimed that the millennials are the future of consumption, and that constantly producing innovative products and solutions that enable them to live the way they want and be the person they want to be is vital.
Technology needs to be three things, he said; fast, secure, and smart.
"Smart in the way that it's no longer about analysing data from the past – it's the era of real-time, and predicting the future. 98 percent of your data is locked up somewhere you can't access it – we call this dark data. HANA can unlock that and combine it with structured data to determine not only the sentiment of that data, but also predict the intent of that data.
"Secure in the way we need to ensure that merchants and banks are safe, and that consumer's transactions are fully analysed. HANA tracks each card swipe and picks up on inaccuracies and uses innovation to bring peace of mind to the consumers – something we all need.
"And finally, speed. We can all agree on one thing; slow kills companies fast."
SAP will now be seen as a consumer focused business, McDermott said. With a new focus on individual experiences.
"SAP is now a business to business to consumer software leader, user experience is now our top priority. Behind every transaction you run is an employee, a customer, a supply manager, we need to be caring for the human – each and every human – this is the message."
In this fashion, he announced that its collaboration with multiple sports enterprises provides an insight into its commitment to deliver the fan experience to each and every consumer of SAP technologies.
Following this, McDermott introduced four sports personalities to the stage to take part in a sports TV mock panel. James Brown, NFL Today presenter, Jed York, CEO, San Francisco 49ers, Kevin Plank, CEO, Under Armour, and Adam Silver, Deputy Commissioner, NBA.
"The memories of being a fan at a football game with my dad are the memories I carry with me now. The fan experience is vital," McDermott said.
"Perhaps one percent of sports fans will consume a game from inside the arena – the other 99 percent will consume it via technology, whether that be through a tablet, a smartphone, or a smart TV."
SAP has been working closely with the present businesses to innovate solutions which leverage statistical data for fans in NBA, provide cutting-edge stadium technologies for the new 49ers smart stadium, via unique cameras, cashless ticketing, and ways of ordering refreshments to your seat, and finally, new technologies in smart clothes through Under Armour – be that analytical results for added performance, or thermostat adjusters to maintain preferred body heat.
"We have 68,000 fans in coming into the stadium," said York.
"We want to individualise the experience 68,000 times. We do that through thought leadership and innovation with SAP as a partner. The fan might want to watch the receivers, or the presenters in the studio rolling off statistics for us. They have so many ways to get into the game, we want to allow that. You have to have the technology to take the experience deeper.
"Like you said, 98 percent of companies are using SAP – I really hope my 31 competitors remain in that two percent."
McDermott delivered a closing statement, saying that SAP doesn't want customers be just winners, but champions in their field. The message was clear; SAP is betting big on HANA.
"The takeaway for you is this; to be winners and become champions in whatever you do, you need to ask three questions; do you have the idea? Is it feasible? And is it viable? We here at SAP want to help you answer these and become champions.
"We are proud of what we've done – and we thank you all for being a part of that with us. However, we feel fresh and full of energy, we feel like we've just started.
"This is the 25th Sapphire conference. The first was in a downtown Philadelphia hotel with 100 people. Today we have 100,000 people with us. 20,000 here today and 80,000 consuming this event through technology – we want to thank you all."
Joe Lipscombe is reporting live from Sapphire Now in Florida – follow @Computernewsme for live updates throughout.