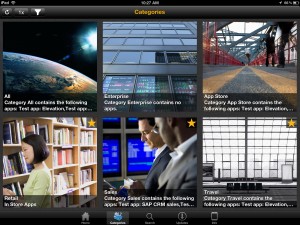 From today, SAP is offering its Afaria mobile management solution in the cloud, hosted on Amazon AWS, for only €1 per device, per month, making it the lowest cost of ownership solution in its category.
Speaking at Sapphire Now, Sanjay J. Poonen, President and Corporate Officer for mobile communications, also announced that SAP had signed a strategic partnership with mobile app-based security company Mocana, in order to provide ready-to-go mobile app management.
"From today, customers can leverage all the scalability and manageability which made us leaders in this industry in a cloud based solution," said Poonen.
SAP hopes to attract more enterprises to the cloud based model by offering a very competitive price as well as a free 30 day trial available on Afaria.com now.
"We don't usually pride ourselves on price, but €1 per device, per month is unbelievable. You get all the capabilities for this price."
The solution is aimed at simplifying basic mobile processes for businesses through one dashboard, while securing all devices registered by tracking activity, and allowing employers to set personalised policies.
"Amazon is the leader of infrastructure-as-a-service and we have a strong partnership with them. Their elastic cloud is a very natural and comfortable place for us to host our solution. Together, we are enabling people to manage all their apps and content that they want to through one managed and controlled portal."
SAP says that in the future, HANA will be the infrastructure behind these kinds of solutions – the company stated earlier in the day that HANA will now be the platform for everything SAP will be doing going forward.
"Big data, mobile and analytics are the new oil of the planet."
Andy Jassy, VP at Amazon AWS, wasn't available at Sapphire, however he did deliver a statement on the partnership via video.
"We're so excited to announce the cloud offering of Afaria," he said.
"Adoption on top of AWS for SAP products has seen a  huge rise recently – this is only set to continue. When you get to scale up seamlessly and shed resources when you don't need them any more, cloud becomes a game changer. With the way competitive environments are changing so quickly, if you're not using the cloud, you're at a big disadvantage.
It's a tough problem for enterprises to manage security, upgrades, and disaster recovery – that's exactly what Afaria does. It's fast, easy to operate, competitive and at 1 euro per device, per month, it's a game changer."