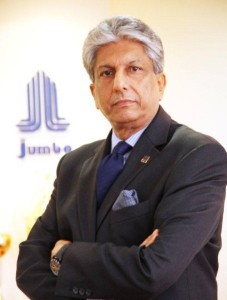 Jumbo Electronics, the regional consumer electronics retailer and distributor in the UAE, has launched its innovative online shopping portal that combines the retailer's expertise in local markets with the capabilities of e-commerce and digital strategy specialists, including Build-a-Bazaar, RBBi, MENA360, and Google, to offer a comprehensive omnichannel experience to shoppers.
The new online store – www.jumbo.ae – offers a fully integrated platform that services customers online and offline, in a simple, convenient process. Besides offering genuine products from global brands, and access to the retailer's award-winning service centre and support, the online store also addresses the challenges faced by shoppers at pure play online stores, such as difficulty in processing returns or lack of access to customer support and human interaction.
Vishesh Bhatia, CEO, Jumbo Group, said, "For the last 40 years, Jumbo has consistently set the benchmark for consumer electronics retail in the region. We introduced organised retail into our sector here and today we are offering what is undoubtedly the first truly omnichannel experience for consumer electronics shoppers in the region.  Our goal is to offer the same high level of products and customer service that we are known for in our stores, to our online customers as well. This move is one part of a deliberate strategy towards entering the digital space."
Nadeem Khanzadah, Head – OmniChannel Retail, Jumbo Group, said, "We have attempted to leave no stone unturned with our integrated customer engagement strategy. Over the years, buying patterns and decision-making processes have evolved to include a mix of online and offline behaviours. There is a need to ensure that our online presence doesn't just tick off boxes, but addresses today's changing realities and customer expectation for an anytime, anywhere, seamless shopping experience."
Jumbo's online shopping portal design has been created by UI/UX performance marketing agency RBBi.
The website adopts fluid design strategy functionality, inspired by the ease of navigation at Jumbo's retail outlets, so shoppers have a consistent experience whether they use a PC or a mobile device.
Jumbo.ae has been developed in collaboration with Build-a-Bazaar — a subsidiary of the well-known Indian e-commerce giant Infibeam, which was set up by a team of ex-Amazon employees.
 The Jumbo online shopping portal has incorporated interesting features such as a 'Product Wizard', which recommends or simply inspires shoppers to choose products for themselves or as gifts. The Wizard can be compared to an instore assistant that shows the best options across single or multiple product category preferences, based on budget, technology habits, shopper profile and interests. It also allows shoppers to compare the different products at a glance.
 Reducing the wait-time for online purchases drastically, customers on Jumbo's online portal can receive their products the next day, for all orders made before 8pm. Currently delivering to any address in the UAE, Jumbo has partnered with MENA360, the only last mile delivery experts in the region specialising in e-commerce fulfilment.
 Visitors to any Jumbo outlet can also opt to purchase the product later through the online portal, saving them the trouble of returning to the store to buy the product. In cases where online shoppers cannot arrange to receive deliveries, they can use the 'Click and Collect' feature on the online portal to arrange a collection from the nearest Jumbo store, where the product is made available.
In addition, all customers – online as well as in-store – have access to facilities such as exchanges and returns across Jumbo's existing network of stores.
 Jumbo has partnered with two of the region's best global electronic payments facilitators, PayPal and Payfort, to offer easy and convenient payment options to customers that are particularly preferred among visitors and the floating expat population in the UAE. Not just limited to cash on delivery and online debit or credit card payments, the retailer also offers the 'credit card on delivery' service, which is seldom offered by online retailers in this market. The company has also chosen Mashreq Bank as its banking partner for the online shopping portal.
It has partnered with Google to implement search-engine optimisation, retargeting search campaigns, and to enhance display marketing and inventory management.
"The Middle East e-commerce market is expected to be valued at about US$15 billion by 2015, according to PayPal. And with consumer electronics purchases accounting for up to 23 percent to 28 percent of online shopping in the UAE across different categories, as reported by Nielsen, we believe customers will see the added value in our omnichannel offering," Khanzadah said.