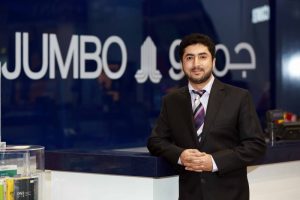 Jumbo Electronics, an omnichannel electronics retailer in the UAE, forecasts growing demand for consumer electronics with smartphones and laptops expected to be the biggest selling category at Gitex Shopper Spring 2017.  The exhibition will take place from 29th March to 1st April at Dubai World Trade Centre.
Having participated since the inception of the show, the retailer anticipates that apart from smartphones and laptops, it will be wearables and Virtual Reality that will generate the most demand and excitement among shoppers, this year.
The event sets the tone for the electronics sector and allows companies to plan for the rest of the year, based on technology announcements and consumer behaviour trends. It is an event that remains enormously popular for shoppers from the UAE as well as the wider Middle East region and people often plan their key technology purchases around Gitex Shopper, said the company. The retailer said it will showcase the latest lineup of available electronics products in the market, along with a wide range of competitive offers and promotions, with discounts of up to 50 percent on select products. Apart from curated offers and promotions, customers can expect premium giveaways from the company.
Nadeem Khanzadah, Head, OmniChannel Retail, Jumbo Group, stated that the brand has made major preparations earlier in the year to cater to a major surge in demand from a tech-savvy public who is eagerly awaiting the most innovative technology.
In terms of the technology trends at the event, he said, "Over the past few years, smartphones with key features such as better cameras, long lasting battery life, vivid screen resolutions and software functions have been leading the market, and this trend has visibily continued into 2017. With a growing consumer preference for the best brands and technology at the lowest prices, Jumbo is committed to tailoring its product offerings at GITEX Shopper in alignment with consumer demand.
"This year, the product categories that Jumbo will be focusing on are much-awaited smartphones, laptops, premium ultra large sized UHD/4K televisions, and fitness and wearable devices. Virtual Reality (VR) devices are also an extremely promising category that is gaining significant momentum and traction over the past year."
Middle East and Africa are among the fastest growing mobile markets in the world and according to Global Media Intelligence Report by eMarketer, mobile phone penetration in the UAE is forecasted to reach 82.1 percent in 2017. According to another recent report from IDC, laptops contribute to approximately 62 percent of the total PC market in the Middle East.
Apart from the extremely popular iPhone 7 & 7Plus and Samsung Galaxy S7 Edge, in the smartphones category, the retailer will be displaying and selling highly anticipated new models such as the Samsung A (2017) Series, Huawei Mate 9 Porsche, Huawei Mate 9 Pro, HTC U Ultra and Motorola G5.