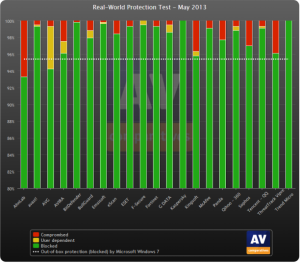 Kaspersky Internet Security 2013 and Trend Micro Internet Security 2013 reportedly blocked 100 percent of malicious online attacks in a recent real-world protection test. The test was conducted by AV-Comparatives in May 2013. 
AV-Comparatives tested the two solutions alongside a number of rival products, though no other vendors could match the perfect score.
Some security solutions still performed well, however, blocking more than 98 percent of threats. These solutions included avast! Free Antivirus 8.0, BitDefender Internet Security 2013, Emsisoft Anti-Malware 2013, F-Secure Internet Security 2013, and Fortinet FortiClient Lite 5.0.
Of the 20 solutions tested by AV-Comparatives, AhnLab V3 Internet Security 8.0 fared worst, blocking just over 93 percent of attacks.
The real-world protection test aims to measure the ability of security solutions to withstand attacks that emulate real-world conditions. Scenarios include Web surfing and the use of popular applications like Adobe Reader, Flash and Java.
In the May test, AV-Comparatives prepared 569 infection scenarios using various vulnerabilities and malware samples. Solutions from Kaspersky and Trend Micro were the only ones able to block 100 percent of the attacks.
Despite the good results for Trend Micro and Kaspersky, however, AV-Comparatives stressed that this does not mean the solutions will always protect against all threats on the Web – it simply means they blocked 100 percent of the widespread malicious samples used in the test.
Nikita Shvestov, Deputy CTO of Research, Kaspersky Lab, said that it was becoming increasingly difficult to find security solutions that could block most, if not all, security threats.
"Stable protection levels are critical for an advanced security solution. The threat landscape changes dramatically every day, and a good solution must be able to respond to this," he said.
"As AV-Comparatives results show, very few solutions can achieve this."