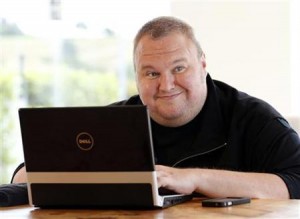 Kim Dotcom hit headlines last year when his Auckland mansion was raided by police and his business, the much-loved Megaupload, was shut down by US authorities.
Twelve months later, Dotcom and his co-accused from the Megaupload site took to a stage at his home to officially launch a new service, mega.co.nz.
The cyber-locker service, which went live on Sunday morning to mark the exact time of the police raid had, according to Dotcom, a million visitors on its first day and 500,000 registered users. The site experienced overload, and, while it was possible to register, Twitter saw comments about the difficulty of uploading files to the service, something Chief Marketing Officer Finn Batato has apologised for.
Saturday's launch, in front of 200 guests, including media and supporters, kicked off with a re-enactment of the raid and a performance from Tiki Taane. Then Dotcom and his Mega team took to the stage for an official press conference.
"I'm convinced the internet is the key to the betterment of mankind," Dotcom told media. But, he said, "Hollywood is strangling growth. The internet belongs to no man, no industry or government."
He said Mega is a start-up that has been scrutinised by lawyers like no other and he praised his adopted country.
"The New Zealand legal system has given us our lives back, [it's] beginning to hold the government accountable for the legal things they did to us."
Dotcom's extradition hearing was continually delayed last year, and is now expected to be take place in August.
Dotcom said he doesn't intend to sue the government. Indeed, it looks as if he will stay in New Zealand – assuming that the Megaupload case is settled in his favour – given his plans to list Mega on the local stock exchange, the NZX. He also wants to create a few hundred jobs within New Zealand, he said.