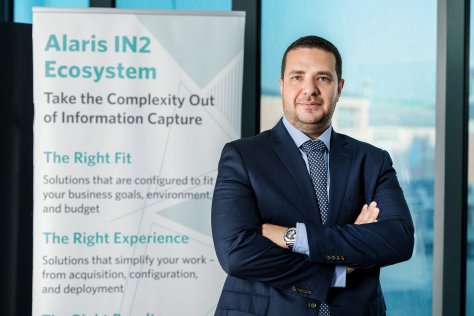 Alaris, a Kodak Alaris business, has signed a strategic partnership with Namaa InfoLogistics, an Egypt based IT solutions provider. The two companies will collaborate to jointly assist governmental and private sector organisations in Middle East and Africa intelligently automate complex business processes and drive greater efficiency in the workplace. The partnership will extend Kodak Alaris' coverage and presence throughout the region while enabling Namaa InfoLogistics to integrate new solutions in Enterprise Content Management (ECM), Business Process Management (BPM) and data capture.
Namaa InfoLogistics provides a range of solutions and services to help enterprises in a variety of sectors to deploy end-to-end records and information management solutions through specialised scanners, intelligent capture software, reliable storage, and secured and accurate indexing to manage records, documents and information.
Naji Kazak, general manager, Middle East, Africa, Turkey and Russia, Alaris said, "A paperless, digitally-driven work environment is one of the first steps in digital transformation. Efficient operations are all about delivering the right information to the right person at the right time. Data capture and integrating digital documents into business processes using the right technologies, help organisations make fast decisions, at a lower cost and with improved customer outcomes."
"Namaa InfoLogistics is a company with extensive experience in enterprise content management and records management, having completed a number of successful implementations across a wide variety of sectors in the Middle East and African markets. With high level technical capabilities and deep insights into the local market, we believe this solutions provider is the right partner to deliver our award-winning solutions that automate business processes, take complexity out of information capture and bring innovation to the workplace."
Besides working to deliver Kodak Alaris' world-class range of desktop, departmental, and production scanners, Namaa InfoLogistics will focus on Kodak Alaris' software portfolio. These solutions help organisations accurately extract data from paper documents and route it to desired locations – whether it's a local folder, cloud service, ECM system or integrated line of business application. Innovative solutions like Alaris Info Input give companies the freedom to capture documents through a web browser or mobile device, and scaling across departments and enterprises is fast and secure. For busy, high-volume operations like service bureaus and mailrooms, Alaris Capture Pro Software gives the greatest ability to effectively manage scanning workflows and take manual steps out of the image capture process.
"We are very excited about our partnership with Kodak Alaris. This is in line with our business strategy to partner with global technology leaders in automation, communication, and infrastructure solutions in order to deliver projects that enable digitalisation for regional organisations. Knowing that we can offer the company's market leading scanning technology and world class software, service and support, we will confidently go after new business opportunities, safe in the knowledge we will deliver results that positively impact our customers' businesses," said Ahmed Ghanim, Founder & General Manager, Namaa InfoLogistics.