King Salman Youth Center (KSYC), in a strategic partnership with Badir Program for Technology Incubators, will hold a 3-day interactive programme to develop the culture of innovation in entrepreneurs for the advancement of their businesses.
Dubbed as "The Leading Transformation for Entrepreneurs Program", the programme to be delivered in English, targets 45 Saudi entrepreneurs – both men and women – all over the Kingdom from different business domains who currently have their businesses and are ambitious to grow.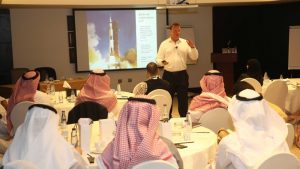 The programme's primary objective is to nurture innovation, scalability and leadership in each of the participant to serve as the foundation for sustained business growth.
Two well-known professors – Dr. Randall S.  Peterson, Professor of Organisational Behaviour Academic and Director of the Leadership Institute, London Business School; and Dr. Simon Stockley, Senior Faculty in Management Practice, Cambridge Judge Business School, University of Cambridge – will preside over the course on December 17-19, 2017 from 9 a.m. to 5 p.m.
During the three-day sessions, participants will be guided to incorporate and manage innovation in their business endeavours, equip them with the right mindset and organisational culture, and go away with real-life insights/advices tools to help them scale up and grow their existing businesses.
As outlined, the programme will zero in on the overwhelming importance of leadership and the management of 'dynamic capabilities' in creating and sustaining growth.
The nitty-gritty of growth, its challenges, strategies and implications will be explored extensively, to include the implications of Ansoff's growth matrix.
Moreover, the participants will be made to understand how working with other people makes one a more effective leader, and eventually how working together as a team can help steer the culture of one's  business more engaging and productive.