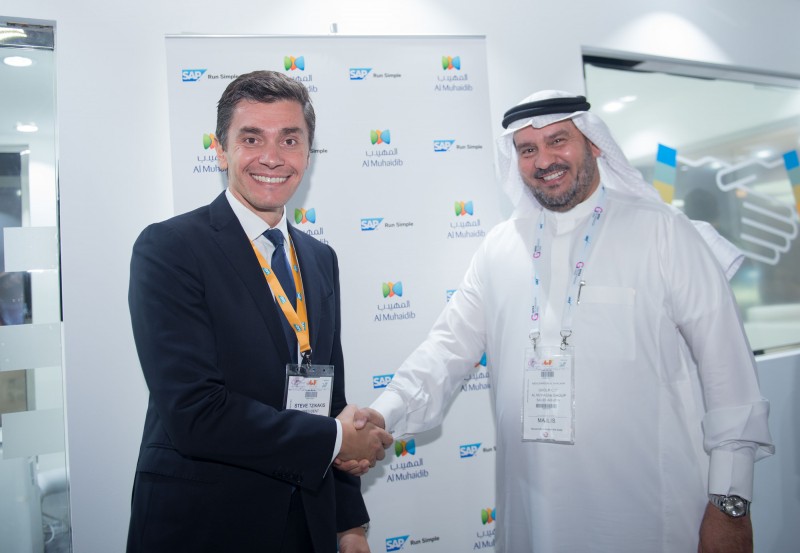 One of the Saudi Arabia's largest conglomerates and investment companies, Al Muhaidib Group, has launched its digital business strategy, with digital transformation enabler SAP in an enterprise agreement signed by Abdulkareem AlKhaliwi, vice president, IT, Al Muhaidib Group, and Steve Tzikakis, president, Europe, Middle East, and Africa (EMEA) South at SAP.
With Saudi Vision 2030 calling on private sector contribution to GDP to grow from 40 percent to 65 percent, Al Muhaidib Group is undergoing digital transformation across its 93 affiliates, covering five key sectors: building materials, food, contracting, utilities and infrastructure and real estate.
As part of its digital transformation, Al Muhaidib Group's eight largest entities will run on the SAP HANA in-memory platform.
"Saudi's largest organisations need to run in real-time to enhance their business competitiveness. Using SAP HANA, Al Muhaidib Group now has the real-time analytics to ensure our customers have the right products at the right time. We have enhanced our performance, improved our reporting time, and can better fuel our regional and international expansion," said Abdulkareem Al Khalawi, VP, IT, Al Muhaidib Group.
One of the oldest and largest conglomerates in the Kingdom, Al Muhaidib Group was founded in 1943. Its most prominent investments include Mayar Foods, Savola Group, Masdar Building Materials and Thabat Construction, Saudi Tharwa in real estate, and ACWA Holding.
"Al Muhaidib Group is at the cutting-edge of Saudi organizations undergoing digital transformation. Conglomerates are the lifeblood of the Saudi economy, across a wide range of industry verticals. SAP is committed to exchanging global best practices in enabling Saudi Vision 2030's nationwide digital transformation and private sector companies to take their business plans to the next level," said Ahmed Al-Faifi, managing director, SAP Saudi Arabia, Bahrain, and Yemen.