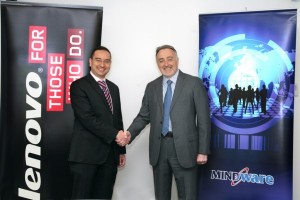 Lenovo has appointed Mindware as an official distributor of its Think product range, according to a recent Mindware statement.
The agreement will see Mindware distribute products such as the ThinkPad Edge and the ThinkPad Classic for the UAE, Kuwait, Bahrain and Oman.
Having been a part of the PC industry for almost two decades, the ThinkPad range has sold over 60 million units worldwide. The range is well known for its design consistency, reliability and durability. The range has come up with a number of first for the PC industry, including the first spill-resistant keyboard, and the ability to create light units without compromising on performance.
The ThinkPad Classic is designed for large businesses, government and education entities, while the ThinkPad Edge is designed for SMBs. Mindware hopes to target the SMB segment with this new Lenovo partnership.
"We are excited to be partnering with Mindware to increase the availability of our Think range of products in the Middle East," said Mohammed Hilili, General Manager, Gulf, Lenovo.
"Today, 95 percent of businesses registered in the UAE and 93 percent of businesses in Saudi Arabia fall into the SME category, whilst overall in the Middle East and North Africa, SMBs are recognised for their contribution of 28 percent of the region's income.
"What is important for these entities to note is that technology can be the make or break of a strong business operation – a fact as relevant to a sole trader as to the most complex multinational organisation. At Lenovo, we ensure our business products always help increase productivity and mobility without compromising on functionality and security."
Lenovo's channel strategy for the region rests on working closely with distributors such as Mindware to bring local insight and ensure brand differentiation. Local partners also help Lenovo drive the best customer experience at the point of sale.
Mindware has pledged to use its extensive reach to help Lenovo educate on and increase the sales of its Think products, starting April 2013.
"The region's SMB workforces tend to be highly mobile," said Mario Gray, General Manager, Mindware. "As a result, corporations need to equip their team with products that are robust, durable and light-weight – all key elements of the Lenovo Think range.
"We believe this partnership will help boost productivity among the SMB community, helping put the right technology in their hands to support their growth, development and success."