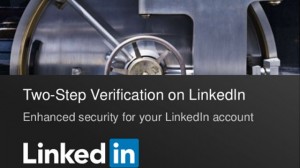 If you're worried that a disgruntled former coworker will hack your LinkedIn account and add embarrassing details to your resume, fear not: The social network for professionals has at last added two-factor authentication to prevent such a breach.
All jokes aside, social hacks are on the rise, and the major networks are stepping up – albeit slowly – to add more security hurdles. Twitter only last week added two-factor verification after a series of high-profile hacks of news organisations' accounts.
LinkedIn's latest security measure is similar to the one Twitter put in place. Users have to opt in and change their security settings – there is a link to turn on two-step verification, but it's off by default.
After you turn the feature on, you register your phone number, and LinkedIn sends you a text to verify your identity. This will happen every time you try to access your account from a new device, and the network will email you when those attempts happen, just in case it's not you. LinkedIn Friday published a step-by-step tutorial for turning on two-factor authentication.

LinkedIn isn't alone on this
LinkedIn usually isn't the first social network that comes to mind when you think of hacking attempts, but the network suffered a data breach a few years ago that resulted in more than 6 million user passwords being posted online.
Security experts recommend two-step authentication because it requires the person accessing your account to have both your password and your mobile device on hand. (Though if that's the case, you're out of luck.)
Evernote also added two-factor verification this week. Major sites like Facebook, Microsoft, and Google have long used the security measure, with Facebook also recently adding a feature that lets you choose a " trusted contact" to help you get back into your account if it's hacked.