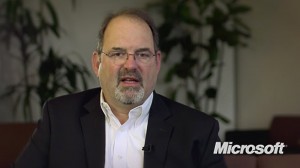 Microsoft CIO Tony Scott has left the company after five years.
Word of his departure leaked out over the weekend. His LinkedIn profile lists him as the company's former CIO and the company website no longer lists him among senior leaders.
The Seattle tech news site GeekWire broke the story Sunday and also received confirmation from Microsoft in a statement the site quoted as saying: "Tony Scott decided to depart Microsoft to focus on personal projects. While at Microsoft, Tony was a strong IT leader passionate about taking Microsoft's technology to the next level and using our experiences and learnings to help customers and partners. We thank Tony for his contributions and wish him well."
Jim Dubois, the company's vice president of IT product and services management, has been named interim CIO, GeekWire reported.
Word that Scott had left the company was given to employees last week, the site reported.
Microsoft's public relations agency did not immediately respond to a request for the statement.