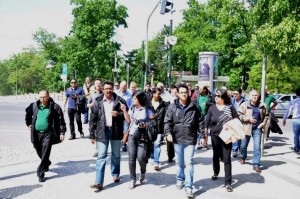 OKI Middle East, India and Africa recently held its annual distributor conference in Prague, Czech Republic.
The conference was attended by delegates from over 15 countries across the region, according to a statement from OKI. It was hosted by Dave Collinson, Lee Webster and Javier Lopez, from OKI Europe.
The idea was to develop relationships with partners, OKI said, adding that it was about raising awareness of business opportunities, and discussing the vendor's product roadmap. Distributors were advised on where each product could be placed in the market, as well as on corresponding verticals.
"We have ambitious growth plans for the coming years and wanted to ensure that our distributors were clear about OKI's strategy and brand values," said John Ross, General Manager, OKI Middle East, India and Africa.
"It was an ideal opportunity to consolidate our message and to show our commitment and support for the valuable work that they do."
OKI said that it wants to empower its partners with the required tools, training and support to help them improve its reach across the region.
OKI's 2013 distributor conference culminated with its annual awards ceremony. The winners included:
Dot Matrix Distributor of the Year: Jawad Sultan of Oman
Mono NIP Distributor of the Year: MABCO of Jordan
Colour NIP Distributor of the Year: Al Eqtessad of Kingdom of Saudi Arabia
Outstanding Achievement Award: Avantech of Libya
Distributor of the Year: Qatar Computer Services of Qatar