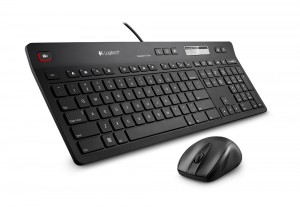 Logitech last week announced the launch of a new enterprise-grade keyboard with integrated phone and video call controls for Cisco Jabber.
The system, designed to enhance unified communications (UC), was demonstrated at this week's Cisco Live conference in London.
The new solution brings together the Logitech UC Keyboard K725-C with dedicated keys for managing calls on a computer or virtual desktop, Logitech's Full-HD C920-C webcam and the M525-C wireless mouse.
The keyboard has nine dedicated phone and video control keys, making it easy to quickly answer, end or mute calls directly from the desktop.
"We created the Logitech UC Keyboard to replicate the familiar controls of a traditional desk phone, giving UC users new options to collaborate using soft phones and video," said Eric Kintz, Senior Vice-President and General Manager of Logitech for Business.
Logitech's new package has already gained praise from research analysts, who say that such products are critical to the success of unified communications deployments.
"Products such as the Logitech UC Keyboard 5725-C can play an important role in helping users make the transition between hardware-based to software-based communication and collaboration," said Rich Costello, Senior Research Analyst for Unified Communications, IDC.
The keyboard features key blinks to show incoming calls, giving users a virtual cue even when looking at something other than the screen. The voicemail message key also glows when new messages are waiting. A built-in LCD display, meanwhile, shows caller ID for incoming calls, as well as all of the information found on regular telephones, such as call duration.
The keyboard can manage calls for anyone signed into the Cisco Jabber system, a unified communications software client that provides access to presence, instant messaging and video and voice calls, among other things.
"The keyboard call controls, in particular, are an important new approach for bridging the gap between the physical and virtual worlds of unified communications," said Phil Sherburne, Vice-President of Enterprise Smart Solutions, Cisco.
The webcam, meanwhile, offers up to 1080p high-definition video at 30 frames per second, a 78-degree field of view and omni-directional, dual-stereo microphones. It also features on-board H.264 encoding technology, which can free up system bandwidth, and Logitech RightLight 2, which compensates for poor lighting conditions.
The entire UC solution will be available worldwide at the beginning of March 2013.