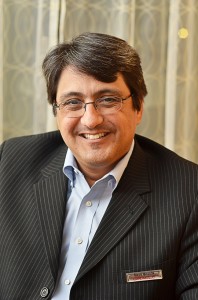 Oracle has seen a higher response rate to its Fusion applications in the Middle East than any other regions, says Steve Miranda, senior VP of Fusion application development for Oracle.
"The Middle East has gotten a higher response to our Fusion applications and particularly a higher response towards an integrated, cohesive suite of applications we call a 'single instance'," Miranda said.
Miranda added that he believes this to be down to companies in an emerging region not having to adapt as much.
"I think that's the benefit of being in an emerging market. A lot of the old economies started off before their ERP suites so started with a component for manufacturing, finance, HR and so on, and for quite some time they have been going through enterprise application consolidation," he said.
"In the Middle East there is certainly a higher proportion adopting that suite from day one and I think that's because they have the benefit of not having to figure out history and how to get there – they can just say, this makes sense and this is where we need to be so let's start with this approach," he added.
Miranda refers to the notion of Middle East companies 'skipping a generation' and that has become a benefit when adopting new technologies.
"I think in emerging markets we see those applications lend themselves best in the cloud and that is where we see the most market traction," he said.
"I would equate it to the cell phone movement in emerging markets where there is a lot of consumers in emerging markets who didn't go through a landline, skipped a generation and went straight to cell phones. Similarly you have newer companies and growing companies who have also skipped a generation of on-premise software and gone straight for the cloud software," he added.
Miranda also said that, whilst not much physical development for Oracle goes on in the Middle East, if trends continued to go that way it's something that could happen.
"Most of what is in the Middle East is the product managers who give us the local requirements. There are a couple of development groups but they're smaller. However, we're always looking for a strong talent pool of technical resource development that makes sense to us from a cost basis and if that rose in any part of the world, we're open to that," he said.
Whilst the high Middle East response rate to the Fusion applications is much down to the wants and needs of the regional market, Miranda said he believes they are turning to Oracle in particular because the company offers elements that other solutions don't.
"It's the first comprehensive suite that's in the cloud. Most cloud vendors have just CRM, or HCM or just talent management, where as we have an enterprise suite of applications available in the cloud. We also have a choice of running on-premise, and enterprises can choose to change their option over time," Miranda said.
"Most cloud vendors are cloud only, so if you change your mind and want to put a particular app on premise in your own virtualised solution, they don't offer that option – there is no on-premise shipment. Most on-premise customers have a different product line. We are extremely confident, even if you want it in the cloud but just want talent management, then we think we have the most competitive management module on the market. There's been a significant investment from Oracle in that," he added.
Despite Oracle's success in the app market, Miranda said he still believes that companies should be developing some apps inhouse.
"There are some applications where IT can be a competitive differentiation for that customer. So I'm not sure a customer would want to give Oracle that IP to build that product and take the maintenance out of their hands. In some cases there will be some systems a company runs that they would not want to share with Oracle and use as an off-the-shelf product," Miranda said.
However, Miranda stated that Oracle's offering as an application tools business, as well as just an application business, means they can capitalise from both sides of the spectrum.
"If you're a customer of Oracle and you have to build those types of applications, you can build them using the same tool set. So you get the same UI and same technology stack. We even sell our tools to our competitors, people who build applications like us. We don't often sell them the apps, but we sell them the tools," he said.
"So being in both markets we think is a tremendous advantage for us and for our customers that want to go with our Fusion database to build their custom apps on. They want to have that in the exact same platform we build our apps on," he added.