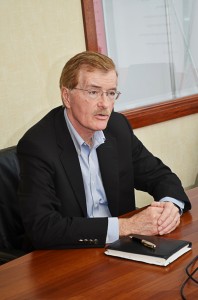 Oracle and SAP are "looking over their shoulder" as Infor gains ground on them in the Middle East enterprise software market.
The two companies are considered the big players in the market, but that is going to change as Infor offers better and cheaper solutions. This according to John Flavin, executive VP at Infor.
"We've been quietly building up and we're now getting a reputation as being the number three player in the market place. In the past there have only been two actually, SAP and Oracle, and no one ever challenged them. Now, I believe we have them both looking over their shoulder," Flavin said.
"We offer a much better deal than them. They offer you a name plate, we offer them a better solution. Our software is not as expensive, but the real difference comes when it comes to installing it – we're a third or less the price of them," he added.
Flavin also doesn't hesitate in criticising Infor's competitors, saying he believes people choose them because they are a well-known name, rather than the quality they offer.
"We just give our customers a higher value. Our software isn't as rigid and cumbersome as theirs. We emphasise high quality, deep rich functionality and complete business suites, at the lowest possible price in the market today," he said.
When it comes to enthusiasm, it certainly seems like Infor is ready to take on the software giants of the market. "You're seeing a new Infor on the market. We're active, we're engaged, we're pretty happy right now," Flavin beamed.
The new product Flavin sees as the solution to catch up on Oracle and SAP is Infor10 Suite.
"I think it's better than our competitors because of the depth and breadth of the functionality. I've been doing this for a long time and I've seen a number of different packages that have been available. Based upon our main competitors, it's a deep rich functionality," he said.
As well as being a better solution than its successors, Flavin also said he believes the solution is a significant improvement on Infor's previous offerings.
"It's much, much better. It has more functionality, better technology. It's got the foundations for applications to run through the cloud. It's set up to take advantage of mobile computer," Flavin said.
Infor is trying to emulate the hugely successful workings of Apple into its own solutions, Flavin said.
"We're looking for the same experience in commercial software, as the one provided by Apple on the consumer end.By that I mean software that runs the manufacturing, the distribution companies, the logistics companies, as well as the other applications that we run that are in very different facets of the business – healthcare, hospitality, government etc.," he said.
Besides the product itself, Flavin said he sees Infor's existing customer relations as the driving force in its climb.
"I've been going around here for the last three or four days and visiting around 16, 17 customers. Each and every one of them is extremely loyal and that's just the tip of the iceberg. It's a good cross section and a good indicator that we still have a very strong following as a product," he added.
Infor sees the Middle East as a vital region in its development into a major enterprise software player, said Flavin.
"We'll be moving up and working a lot more in the hospitality market place. In this area in particular – with all the buildings going up, all the new hotels – it's a very prime spot for us to pick," he said.