Micro Focus's president for international markets Jorge Dinares told James Dartnell why vendor lock-in has to stop, why technology transformation takes time and why the firm is now stronger following its merger with HPE Software.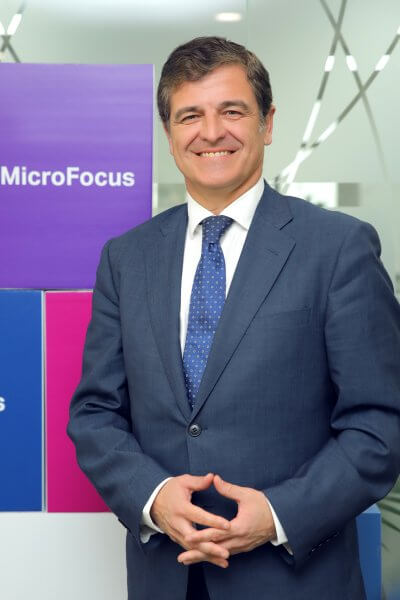 How has Micro Focus developed across the Middle East recently?
We're growing a lot here. We decided to invest and have confirmed our commitment to this market through our significant presence here. I was here a few months ago and back then we were transitioning from the situation of integrating HPE Software and Micro Focus. We've enforced that, and have invested, hired, and built a very strong team. We've also on-boarded 15 partners over the last 10 months and we keep increasing our customer base. It's a different situation to what we had in the past.
Our strategy and commitment with this market and with our customers is that we're here to stay. We want to have customers that can rely on us. Everything we do is focused on our customer needs, and delivering customer-centric innovation. We develop products in line with what they require.
What's Micro Focus's value proposition?
We're one of the biggest software companies, and in my opinion the strongest. If you talk about delivering infrastructure software, I don't see any other company that's as strong as us. Hybrid IT is about helping customers to manage that infrastructure on-premise or in the cloud.
We can supply solutions to manage a hybrid IT environment, supporting both traditional methodologies and processes, as well as DevOps and agile. We're also very strong in predictive analytics through our Vertica platform. I think by now, most businesses need predictive analytics and AI to help them take decisions. We're seeing huge interest right now in those areas.
Do you think locking customers in to particular solutions and technologies is one of the biggest mistakes some of your competitors make, and something you won't do?
I've seen a lot of that for many years in this market, which was more technology-driven rather than customer-centric. In my opinion, we were the first company to really put the customer first. This market is now mature enough. However, I don't see the same commitment from other providers, who don't have that same customer centricity. We always support customer needs around continuity, and won't ask them to throw away products or migrate to a new one based on our interest. We want to help them think about how will they can move to new technologies.
We're currently working with a major European bank that has over 3,000 applications. Over time they've begun moving to the cloud, which they're determined to do but not in a hurry. They want to do it so there's no impact on their business and that they have the appropriate availability and response times. They've set a 10-year timeline to do this, and are relying on us to build the infrastructure, test apps in cloud and give them the chance to move back to an on-premise environment if it isn't not working.
Most CIOs face huge pressure to deliver quick results. What are realistic timelines for such large transformations? should more companies follow the example set by your banking customer?
Three years ago, everyone was saying that they had to move to cloud. If you're a startup then that's fine, but if you're an enterprise you need to be careful. There have been some significant and not too well accepted results based on that attitude, and it's important to know what kind of technology you should use and what kind of partner you should work with. I was surprised with the bank's 10-year timeline but it works for them. They accept that certain applications shouldn't be in the cloud. We need to be sure that the negative impact on business is zero.
What kind of traction have you seen in each GCC market?
Oman has been one country where we've seen particular growth in cybersecurity. The ratio of cybersecurity dollars invested Oman is ranked number one, and it's the most advanced in terms of cyber investments. We have agreements with several government entities there.
In Qatar, we'd naturally seen a slowdown over the last 18 months, but over the last 3-4 months things have started to move again. Kuwait hasn't seen the traction we were expecting a year ago. Bahrain is a very tactical business for us. The market isn't that big so we work through our partners.
We've put a big investment into Saudi Arabia and now have 15 people in our Riyadh office. We're growing partnerships with relevant government entities, retail and utility firms across Riyadh, Dammam and Jeddah. We've continued to grow and expand our footprint in the region.
Where is Micro Focus concentrating its R&D?
There are a few main areas. DevOps is a main one. Companies need to have a way to develop apps faster and in shorter time frames. New competitors come in every day. It takes 9-12 months to develop an app, and that's now a relatively old approach. We're helping customers to develop apps faster, as well as delivering DevSecOps.
We're also looking at IT management, and how we can make sure can CIOs can consistently manage infrastructure and services. We're making big investments into security and are approaching it from different angles. It's not just about having a system that understands and analyses, but one that also examines identity, data and application security. In my opinion, it's critical to check points of vulnerability. What everyone is currently doing to protect data leakage won't work as planned. The only solution is to encrypt production data. You can't predict who will access it otherwise.