During a virtual briefing, Microsoft announced that on April 21, Office 365 will become Microsoft 365, and will be offering new personal and family plans.
An evolution of Office 365, Microsoft 365 builds on the foundation of Office infusing new artificial intelligence (AI), rich content and templates, and cloud-powered experiences. These experiences have already started rolling out and will reach the over 38 million Office 365 subscribers over the next few months.
In addition, Microsoft also unveiled new Microsoft 365 experiences that will roll out in preview in the coming months—a new Microsoft Family Safety app designed to keep families safe across the digital and physical worlds, and new features in Microsoft Teams that bring users closer to friends and family to more deeply connect and collaborate.
The new Microsoft 365 Personal and Family are available on Windows, macOS, iOS, and Android devices, and include access to Office desktop apps, 1 TB of OneDrive cloud storage per person, 60 Skype minutes to call mobile phones and landlines, advanced security to protect users from malware and phishing, and ongoing technical support.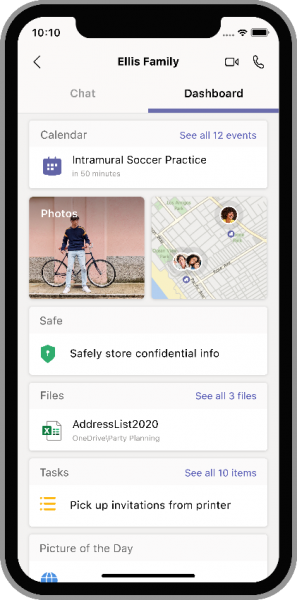 In the announcement, Yusuf Mehdi, Corporate Vice President, Modern Life, Search & Devices, Microsoft, also stressed the importance of communications tools during this pandemic. He said, "Now more than ever, as many of us work and learn remotely, we're acutely aware of all the different ways life can interrupt work and work can interrupt life. It's never been more important to stay connected and on top of the things that matter."
In light of this, Microsoft also announced a version of Teams for consumers. With these new features coming to Teams, users will be able to connect, stay organised, and collaborate with family and friends through a specific interface. Teams will give users the tools to seamlessly manage daily life, including share grocery lists, organise across family calendars, store important information like Wi-Fi passwords and account info, and even see location updates when loved ones arrive home or at other locations like work or school.
Microsoft also announced a major expansion to Microsoft Editor, an AI-powered service available in more than 20 languages, now accessible across Word and Outlook.com, and as a standalone browser extension for Microsoft Edge and Google Chrome.
Anyone can access the essential Editor capabilities, such as spelling and basic grammar across Word, Outlook.com, and the web. Microsoft 365 Personal and Family subscribers will have access to advanced grammar and style refinements to write with more clarity and conciseness, such as "Rewrite Suggestions" to help users rephrase sentences for more impact or clarity while staying true to your original meaning; a plagiarism checker; and style analysis and critiques including clarity, conciseness, formality, and inclusiveness.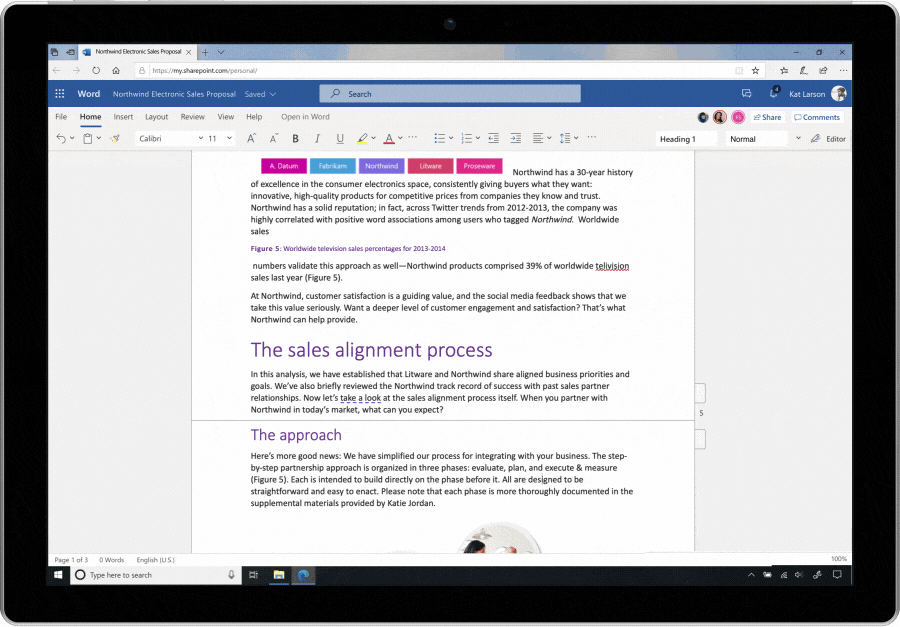 For PowerPoint, Microsoft introduced two new AI-powered features in PowerPoint Presenter Coach exclusively for Microsoft 365 subscribers—monotone pitch and speech refinement. With monotone pitch, Presenter Coach will listen to the user's tone of voice and give feedback in real-time to suggest adding some variation where needed. With speech refinement, Presenter Coach will give grammar suggestions including how to better phrase your speech. These new Presenter Coach features will be available to everyone through a free preview, and then eventually only to Microsoft 365 subscribers.
PowerPoint Designer has also been enhanced to allow for more creativity in presentations. Microsoft is providing Microsoft 365 subscribers with exclusive access to over 8,000 images and 175 looping videos from Getty Images, plus 300 new fonts and 2,800 new icons to create high-impact and visually appealing documents. The content will also be available to use in Word and Excel. Microsoft 365 subscribers will also get exclusive access to 200+ new premium templates across Word, Excel, and PowerPoint.
Microsoft also announced Money in Excel, a new solution for Microsoft 365 subscribers in the US,  to manage, track, and analyse money and spending. In partnership with Plaid, users will be able to connect their bank and credit card accounts to Money in Excel – this will allow them to import transactions and account balances automatically and create a personalised workbook leveraging Excel's features.
To read the rest of Microsoft's announcements, visit https://news.microsoft.com/march-30-2020/