In an effort to help people get relevant and up-to-date resources on COVID-19, Instagram has introduced a call-out at the top of users' feeds in the UAE.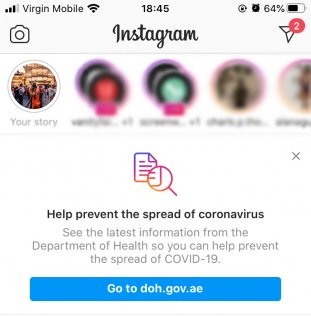 The call-out redirects to the UAE's Department of Health website to get more information about the coronavirus outbreak in the country, along with a message that reads, "Help prevent the spread of coronavirus: See the latest information from the Department of Health so you can help prevent the spread of COVID-19. Go to doh.gov.ae"
As reported by TechCrunch, the notice has started to appear in countries that have seen significant impact from the virus.
Moreover, Instagram is also preventing users from searching for COVID-19 related AR effects on Instagram, unless they were developed in partnership with a recognised health organisation. This move hopes to prevent the spread of false information and distasteful jokes about the pandemic. Instagram is also removing COVID-19 accounts from recommendations unless posted by a credible health organisation.
We will no longer allow people to search for COVID-19 related AR effects on Instagram, unless they were developed in partnership with a recognized health organization. This is part of our ongoing effort to better connect people with credible health information.

— Instagram Comms (@InstagramComms) March 13, 2020
The social media platform has also added stickers to promote accurate information, like the popular "Stay Home" sticker. Any accounts who use the sticker will be added to a shared Instagram story, allowing users to see how their followers are practising social distancing at this time.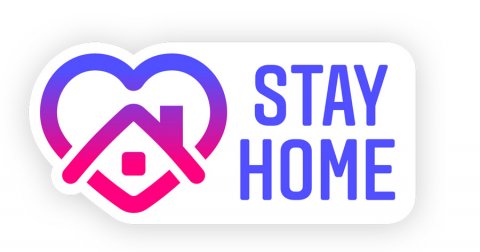 Users looking for #coronavirus, will also be redirected to the World Health Organisation's website through a pop-up window that reads, "Looking for coronavirus info? See the latest information for the World Health Organisation (WHO) so you can help prevent the spread of novel coronavirus (COVID-19). Go to who.int"
Instagram is not the only Facebook company to introduce preventative measures to fight the spread of coronavirus. WhatsApp has recently introduced WHO Health Alert, a chatbot able to answer common questions about COVID-19. Facebook, the social media platform, has also launched the Coronavirus (COVID-19) Information Center, featured at the top of News Feed, to provide a central place for people to get the latest news and information as well as resources and tips to stay healthy and support their family and community.
Similarly, Snapchat has also introduced new creative tools to help keep people stay informed about and be aware of the coronavirus pandemic.
Among the tools that Snap rolled out are new Lenses that will help Snapchatters stay positive by engaging in a bit of fun while working or studying from home, and a new Snap augmented reality (AR) game that will help to myth-bust common inaccuracies by separating coronavirus facts from fiction.