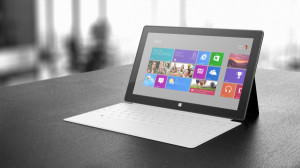 Microsoft's Surface tablet has earned the company less in revenue than it paid to write down unsold stocks of the device.
The company said in a regulatory filing with the US Securities and Exchange Commission that the Surface had earned revenue of US$853 million in its fiscal year ended June 30. The Redmond, Washington, software company did not disclose how many units of the tablet it had shipped during the year.
Microsoft announced earlier this month it took a charge for Surface RT inventory adjustments of approximately $900 million. The company also saw a $898 million increase in advertising costs, associated mainly with the Windows 8 operating system and Surface, according to the filing.
Aimed to compete with Apple's iPad and other tablets, the Surface RT built around a ARM-based processor and running Windows RT operating system was generally available from October. The Surface Pro, which runs Windows 8 on an Intel processor, became available in February.
Microsoft decided to design and manufacture the product, to the dismay of some partners who were used to dealing with Microsoft as a supplier of software, rather than as a competitor in the computing devices market.
"A competing vertically-integrated model, in which a single firm controls the software and hardware elements of a product and related services, has been successful with some consumer products such as personal computers, tablets, mobile phones, gaming consoles, and digital music players," Microsoft said in the filing, while discussing its competition. The company said it also offers some vertically-integrated hardware and software products and services, but its competitors in smartphones and tablets have established significantly larger user bases.
The Surface has not been a runaway success in the market. Microsoft shipped about 900,000 Surface tablets in the first quarter of this year, giving it a 1.8 percent market share of the tablet market, according to IDC. Apple led with 19.5 million iPad shipments, a market share of almost 40 percent, followed by Samsung with 18 percent share, Asus at 5.5 percent and Amazon.com at 3.7 percent share. Overall, Windows 8 and Windows RT tablets, including from other vendors, continued to struggle to gain traction in the market, and total Windows 8 and Windows RT shipments across all vendors reached 1.8 million units, IDC said.
Microsoft said in the filing that it would continue to invest in the Surface.