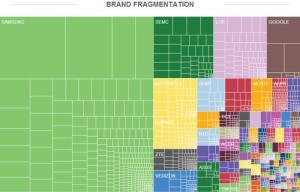 Fragmentation has been both a blessing and a curse for Android since the beginning, and a new report says that's not changing any time soon.
The report from OpenSignal says there are nearly three times as many distinct Android products in use now compared to a year ago. Among these devices, eight different versions of Android are currently in use.
A pair of visuals from OpenSignal illustrate the staggering variety of the Android device market. Although Samsung is clearly the dominant player, accounting for 47.5 percent all devices measured by OpenSignal, the company alone has hundreds of phones and tablets on the market.
And beyond the big brands like Sony, LG, and Motorola, there are dozens of generic brands and carrier-branded handsets, each with their own clutches of lesser-known devices, as graphically represented above.
OpenSignal, which gets its data from users of its Wi-Fi and signal finder app , takes a level-headed view of fragmentation.
While the open nature of Android allows any company to create its own phone or tablet, providing more choice for users, it also can create headaches for app developers, OpenSignal says.
Anyone who creates an Android app must target a wide variety of screen sizes, processors, and versions of the Android software.
Better news on OS fragmentation
The good news is that Android fragmentation isn't as much of an issue as it used to be, in the sense that the most outdated versions of Android have become far less prevalent. Android 2.3 and earlier still account for about 40 percent of devices in use, but that's a big improvement from a year ago, when roughly 85 percent of devices were running Android 2.3 or earlier.
These days, 61.2 percent of devices are running Android 4.0 or higher, and 37.9 percent are running Android 4.1 or higher. Thus, the balance has shifted toward newer versions of Android, which sport major improvements in polish and design compared to the Android of several years ago.
It helps that Google has slowed down the pace of Android development, so phones that aren't running version 4.3, or even version 4.2, aren't at a major loss for features. Google has also tried to reduce headaches for developers with fragments, which are a way to develop one scalable interface for many screen sizes, along new tools for testing those screen sizes.
None of this suggests that phone makers will update their devices faster. Even though Google has tried to offer ways to speed the process along , phone makers still face two major roadblocks: testing and certifying new software. With more devices on the market than ever before, the blessing and curse of Android fragmentation remain the same.