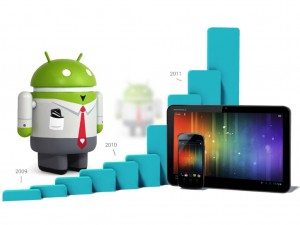 The FairSearch coalition, whose members include Microsoft, Nokia and Oracle, has filed a complaint with the European Commission against Google and Android, saying that the company is using the OS as a Trojan horse to deceive partners and monopolise the mobile marketplace.
Android has become the dominant smartphone operating system when counting units sold, with a market share of 70 percent during the fourth quarter, according to Strategy Analytics. Google is now using that dominance to lock out competition in the mobile sector, FairSearch said.
The way Google packages apps such as Maps and YouTube on Android-based smartphones "disadvantages other providers, and puts Google's Android in control of consumer data on a majority of smartphones shipped today," while the "predatory distribution of Android at below cost makes it difficult for other providers of operating systems to recoup investments in competing with Google's dominant mobile platform," according to the coalition.
"We are asking the Commission to move quickly and decisively to protect competition and innovation in this critical market. Failure to act will only embolden Google to repeat its desktop abuses of dominance as consumers increasingly turn to a mobile platform dominated by Google's Android operating system," said the FairSearch coalition's Brussels-based counsel Thomas Vinje, in a statement.
This isn't the first time FairSearch has complained about what it sees as Google's anti-competitive practices. In addition to taking aim at Google's search practises, the coalition last month filed objections with ICANN (Internet Corporation for Assigned Names and Numbers) over Google's applications for generic top-level domain (gTLD) strings including ".search," ".fly" and ".map."
Google on the other hand isn't saying much, only stating that "we continue to work cooperatively with the European Commission" when asked about the latest complaint.