James Dartnell reports from Microsoft Build 2017 at the Washington State Convention Centre in Seattle.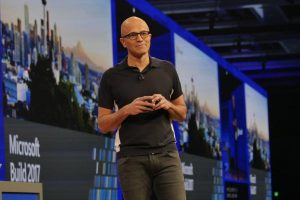 Microsoft has announced a broad range of Azure data and cloud services, AI and IoT edge services to help developers build more intelligent applications.
During his opening keynote at Microsoft Build 2017 – the firm's annual Seattle-based developer conference – CEO Satya Nadella said that Windows had reached 500 million monthly active users, and Office 365 100 million.
Nadella highlighted the three key areas that Microsoft is aiming to enhance across its cloud and edge computing experiences: user experience, AI and serverless computing.
It is also clear from Build that the technology giant will be making edge computing a key pillar of its offerings going forward.
"The user experience needs to be distributed across devices," Nadella said. "It's no longer about a single device. Personal digital assistants will be available on all devices, and as you move across them, they will be there to help get tasks done. The user experience is not just about input.
"By definition, AI will be more distributed. We are reaching a point where we can't rendezvous training in the cloud, we need it at the edge. It's a question of how we learn, train and infer that spans the edge and the cloud."
Nadella also highlighted the ways that serverless computing will play a central role in Microsoft's future strategies. "We want to be able to write logic that reacts to events, and is not static," he says. "Serverless computation will change the economics of back end computing, but will be the future of the core of distributed computing. It will change Windows, Office 365 and azure."
The Redmond firm shared an early peek into innovations it is bringing intelligence from the cloud to the edge.
Microsoft gave a preview of Azure IoT Edge, technology that extends the intelligence — and other benefits — of cloud computing to edge devices.
The new features include new user interaction capabilities, as well as new data, IoT edge and AI services built for a future of ubiquitous computing and ambient intelligence.
Microsoft's director of Azure IoT Sam George gave a demo that showcased the potential for Azure IoT Edge. He explained how data from an edge device could then use the Azure IoT Hub, stream analytics and machine learning together to gain unique insights around objects such as manufacturing equipment. "This removes the cloud loop by pushing the logic out to the device," he said. "The Azure IoT Edge allows you to take logic and export it, decreasing emergency response times."