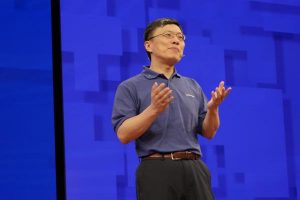 James Dartnell reports from Microsoft Build 2017 in Seattle's Washington State Convention Centre.
Microsoft today took huge steps in "amplifying human ingenuity" with intelligent AI technology, bringing a host of services to developers through AI-embedded Microsoft Azure.
At its Build 2017 conference in Seattle, the firm made new announcements that will facilitate the introduction of AI into the enterprise, including new cognitive services, platform innovations in the Microsoft Bot Framework, advances in deep learning tools and insights offered through the Microsoft Graph.
CEO Satya Nadella made it clear that AI is becoming a crucial part of Microsoft's services portfolio, having discussed earlier in the day how edge computing would too become a company priority. "It's clear as day that cloud and edge computing are getting infused with AI," he said.
Harry Shum, executive vice president of Microsoft's artificial intelligence and research group, explained that information will be key to what can be achieved with AI. "It's amazing to see AI becoming a reality, our vision for which is to amplify human ingenuity," he said. "To have great AI, you need great data. The forces of big compute, powerful algorithms and massive data are combining to present a new era for AI. A key part of our innovation has been building deep neural nets for object segmentation."
Shum went on to add that new conversational elements within Microsoft's AI offerings represented a hugely disruptive influence in technology. "Advancements in speech and language are enabling conversational AI – conversation as a platform – which is the next major user interface paradigm shift," he said. "Conversational AI represents a move from a world where learn humans learn about computers, to where computers understand humans."
The company has also added new services to its offering of cognitive services, and now provides 29 services for developers, with unique customisation options. These enable developers to infuse off-the-shelf or custom intelligence capabilities such as vision, speech, language, knowledge and search into their app and bot experiences in a variety of scenarios.
New services include Bing Custom Search, Custom Vision, Custom Decision and Video Indexer. A new PowerPoint add-in called Presentation Translator, which leverages Microsoft's Translation APIs, was featured, allowing real-time translation to multiple languages during any presentation.
The new Cognitive Services Labs were also launched, enabling developers to experiment with new services, such as a Gesture API, still in the early stages of development.
Using the new adaptive cards supported by the Microsoft Bot Framework, developers can write cards once across multiple apps and platforms. Using the Bot Framework, developers can also now publish to new channels including Bing, Cortana and Skype for Business, and implement Microsoft's payment request API for checkout in their bots.
Azure Batch AI Training is a new Azure offering, available in private preview only, that will allow developers and data scientists to configure an environment with parameters and run their models against multiple CPUs, multiple GPUs and eventually field-programmable gate arrays.