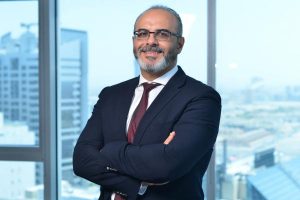 Akram Assaf is no stranger to competition. The two primary industries – recruitment and technology – which encapsulate the firm he co-founded and now serves as chief technology officer for, Bayt.com, are defined by it.
As millions of people around the world continue to flock to the Middle East – and Forbes' seventh most influential city in the world 2014, Dubai – in the hope of a better job and life, demand for jobs is intense as ever. Technology, too, is an industry that sees would-be competitors waiting for their moment to pounce.
"In the Internet business, competition is a click or an app away," Assaf says. "Running a technology platform is an iterative process of refinement, and it's easy for competition to bring new value, especially when they are able to deliver services that originate from other markets."
Founded in 2000, Bayt.com has gone on to become firmly established as the go-to regional jobsite. This berth has been hard-earned, with Assaf's tough negotiating skills and deep understanding of technology being central to the company's success.
Along with Bayt.com's three other co-founders, Assaf needed to be exceptionally persistent and savvy to get the company off the ground amidst the dot-com boom, in a region that lacked the technology infrastructure of other markets. Ensuring Bayt.com survived its early years was a sink-or-swim test of the quartet's business and technology acumen.
"From 1998-2000, all these Internet companies were coming through and disrupting the way business was done," Assaf says. "IT design was not simple at the time. Technologies were emerging, and a lot of them were certainly not primetime for a production environment, never mind being developed enough from an Internet infrastructure point of view." The GCC was a particularly testing market to operate in. "If you were a Middle Eastern company, the chances are your traffic was routed to the US or the UK. Not to mention the 9-6 – far from a 24/7 – culture that existed around technology."
Although these conditions have somewhat evolved since Bayt.com's early days, Assaf nonetheless casts envious eyes over the conditions that 2017's digital disruptors now find themselves in. "Startups now have it relatively easy," he says. "They can deploy their technology on an as-a-service model and they are good to go."
He adds that the regulatory environment also served as a hindrance in accessing the mass market all those years ago. "The biggest advantage of an Internet company is your ability to reach the masses from a centralised location," he says. "In the US, once a startup was operational they had immediate access to 300 million people. The challenge in this region was the number of jurisdictions, which had to be individually overcome."
Having worked for Accenture and Oracle prior to co-founding Bayt.com, Assaf was already well-versed in the arts of sealing technology deals that could benefit Bayt.com as an end user. A cut-price hardware agreement with Sun Microsystems helped get the firm off the ground. "They gave us $600,000 worth of hardware for $100,000 initially," he says. "This helped to give us the platform we needed to build the company up."
From a business perspective, meanwhile, Assaf and co. realised that there was a huge gap in the market for a jobs website that could help to smooth the recruitment process in the Middle East. "All mediums that were in place were inefficient and required too many intermediaries," he says. "Traditional recruitment required newspaper adverts, faxes and mail. It was a fragmented experience, and opportunities were often lost due to companies not finding the right people."
Fast-forward 17 years, and Bayt.com now finds its technology in a different league from its humble beginnings. The company now has 400 staff on its books, and 13 offices spread across 11 countries, all of which serve to manage the site's 10 million monthly users. Bayt.com is "continuously growing", with the Middle East's status as a leading emerging market generating increasing demand in recruitment. "Everyone who leaves a job creates business demand," Assaf says.
The demands of running a website that is accessed by millions of people mean that the 9-6 IT culture of old is long gone. "We try to set up our architecture with no single points of failure, to ensure our 24/7 operation," he says. "Of course, this is much easier than said than done." Assaf adds that Bayt.com is "largely dependent" on open source technologies, and he is under no doubt that this gives the company greater freedom, as well as an ability to differentiate itself from competitors. "It's important that we let customers define what they want, so we need to be driven by our own business, not vendors," he says. "If you are dependent on externalities, what's stopping your competitors from procuring the same thing?"
Cloud computing has been a regular fixture at Bayt.com for some time now. The firm uses "a lot" of applications on a Software-as-a-Service model, and has been using Infrastructure-as-a-Service since 2007. Assaf continues to drive a hard bargain in terms of hardware procurement, however. "You can easily buy $1 million worth of servers for $70,000 if you're willing to get it second-hand," he says. "It makes sense to buy hardware that is in perfectly good condition – and is only 2-3 years old – for huge discounts."
Assaf thrives off the extra freedom his dual co-founder role affords him, and is an advocate of making bold decisions in technology strategy. "Decision makers need to have risk appetite," he says. "If you're a CIO or CTO and you buy hardware at its full price, and have a low appetite for risk, you won't get fired. But you won't add value, because it's already gone to the vendors. You might fail if you take risks, but that's business. Not all of my decisions are correct."
He empathises with technology leaders who don't enjoy the same autonomy, but believes there are a few steps that can encourage calculated risk. "It's important to educate a team to be more open to experimentation," he says. "This could even take place outside of business hours, if the organisation gives recognition to such initiatives, and that goes a long way to encourage innovation. It's also important to build staff confidence during less risky projects, and to develop an open, honest communication with the leadership."
Bayt.com is continually looking to build out its technology platform, and find new ways that it can gain a better understanding of and provide better services for its users. Assaf is fully aware that the ways Bayt.com can use data will prove decisive in the coming years. "We have to analyse the different components of information that we have," he says. "Our main sources of data are our employees, the users interacting with the business and the information residing in job descriptions. We need analysis to determine which skills are in demand, and which ones are exiting the market."