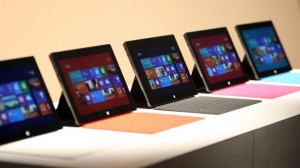 IDC said on Friday that Microsoft shipped an estimated 900,000 Surface RT tablets last quarter, barely missing the top five device makers, and illustrating that demand was "muted at best".
"There is no question that Microsoft is in this tablet race to compete for the long haul," said Ryan Reith, Analyst and Program Manager of IDC's mobile device tracking, in a statement. "However, devices based upon its new Windows 8 and Windows RT operating systems failed to gain much ground during their launch quarter, and reaction to the company's Surface with Windows RT tablet was muted at best."
Microsoft has not disclosed sales numbers for the Surface RT, and has generally shied away from even general statements of its progress.
IDC's Surface RT estimate was based on the firm's ongoing tracking of Asian component suppliers, said Tom Mainelli, Research Director for Tablets, IDC. Its number was in the same ballpark as earlier estimates that had pegged Surface RT sales at around 1 million.
Microsoft launched the Surface RT in October, and, until late in the quarter, sold it exclusively through its online mart and its several-dozen retail stores. Only in December did the company expand distribution to other retailers, such as Best Buy and Staples in the U.S.
"Microsoft faces an uphill battle," said Mainelli. "They were damned if they did [their own tablet], damned if they didn't."
Mainelli laid part of the blame for the Surface RT's performance on the upcoming Surface Pro, which, unlike its predecessor, runs the full Windows 8 operating system and existing Windows desktop applications.
"There was a fair amount of confusion about what [Surface] RT is, and also a fair amount of interest in the Pro version," Mainelli said. The combination led some potential buyers to delay a decision until they had a chance to see and evaluate the more expensive Surface Pro.
Both Mainelli and Reith also pointed to the Surface RT's price point as a flaw in Microsoft's launch-quarter strategy. The Surface RT starts at $599 with a keyboard, the accessory Microsoft has aggressively promoted as key to the tablet's usefulness.
"Microsoft and its partners need to quickly adjust to the market realities of smaller screens and lower prices," said Reith. "In the long run, consumers may grow to believe that high-end computing tablets with desktop operating systems are worth a higher premium than other tablets, but until then, [average selling prices] on Windows 8 and Windows RT devices need to come down to drive higher volumes."
The one bright point in the quarter for Microsoft, said Mainelli, was that it was close to making the top five list, outsold by fifth-place Barnes & Noble by only 100,000 units.
In first was Apple, which sold 22.9 million iPads in the fourth quarter, a 48% increase over the same period in 2011. Samsung, Amazon, and Asus placed second through fourth, with Samsung shipping 7.9 million Android and Windows 8 tablets, a 263% jump from the year before.
Although Apple retained the market share lead with 43.6%, that share fell for the second quarter in a row.
Mainelli said that IDC had not yet completed analysis of a breakdown of iPad sales, but the research firm believes that fewer than 50% were of the iPad Mini, the $329, 7.9-inch tablet that went on sale last November.
"They clearly could have sold more Minis if they had had them," said Mainelli, echoing comments earlier this month by Apple CEO Tim Cook. "As a result, we think the Mini was well under 50% of the total iPad shipments during the fourth quarter. But going forward, we expect [the Mini] will do much better."
Mainelli agreed with other analysts that smaller, 7-inch devices would replace 10-inch tablets in 2013 as the top-selling form factor.
"I wouldn't be too concerned with Apple's market share," Mainelli said when asked whether the company's downward trend would continue. "We'll see another iPad Mini at a higher resolution this year, and that will help shore up their market share. And more companies are buying iPads after evaluating them. They're now more comfortable [equipping workers] with an iPad as an added device, not as a replacement for a PC."
Ironically, PCs may benefit from the shift to smaller tablets this year. "It could lead to a good thing for the PC market," said Mainelli, speculating that, as more tablet buyers opt for 7-inch devices, the difference between traditional PCs and tablets for content creation, as opposed to content consumption, will become starker.
Most experts have laid much of the blame for slumping PC sales at the feet of tablets and smartphones, which have cannibalised computer sales and lengthened the time between PC purchases.
Overall, tablet shipments during the fourth quarter reached 52.5 million units, a 75% increase over the same period in 2011, and a 74% jump from the previous quarter in 2012.
"This quarter proves that there is a tablet market and not just an iPad market," said Mainelli. "There are a ton of [tablet] vendors now besides Apple, and some are very well funded and with strong ecosystems of their own."