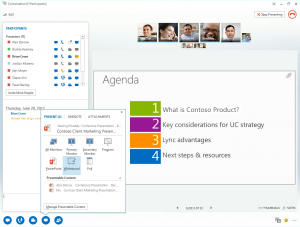 Microsoft's Lync Conference 2013 this week saw a demonstration of the Lync unified communications platform, including clients for Android devices, iPhones and iPads that support VoIP.
The VoIP capability means that formerly voiceless devices such as iPads that have data connections can now participate in Lync meetings. The new features also mean that devices that do support traditional cellular connections can instead tap into the meetings using VoIP over available Wi-Fi networks, thereby conserving mobile data-plan minutes.
Also demoed at the conference was a voice call completed between a Skype client machine and a Lync client machine. So far only audio calls are possible.
During the opening keynote, Microsoft's Vice President of Lync demonstrated VoIP over Wi-Fi and video on a Windows phone – another first, he said, as well as on an Android phone and an iPhone.
Another demo brought voice and video to an iPad, a device that lacks native cellular voice support and videoconferencing capabilities. With a larger screen than mobile phones, the iPad can simultaneously display video of other meeting participants as well as a whiteboard, desktop sharing or data presentations such as PowerPoint slides.
The Lync user interface is customised for each device, so it better fits expectations of where navigation buttons should be located, for example.
The client for Windows 8 devices such as laptops and tablets offers additional features such as live tiles – colorful squares that can display pictures of contacts that alternate with a display of their presence status.
The client features People cards that supply a range of information about each contact like who they work for and what work team they belong to, so if an individual is unavailable, it is easy to figure out how to contact a colleague.
With Windows 8, it is also possible to click on a meeting notification in the Calendar application and immediately join the meeting.
With the latest version of Lync, participant machines can join and each machine will produce audio and video at the highest resolution each participating machine can support. Previous Lync versions would give uniform resolution based on whatever the lowest common denominator codec was.
This is by virtue of a new codec being used in Lync, H.264 SVC. This codec requires less server-side translation of formats, making for more hardware efficiency.
Part of the demonstration was done on a Macintosh via its Safari browser using the new Lync Web client plug-in.
The mobile iOS client is due out at the end of March. The Android client is due a month later, Microsoft says.
The Windows 8 client has been available since last autumn in the Windows Store and a new version is scheduled for release Friday, the company says.
Microsoft says support for video calls between Skype and Lync will be ready by the end of the year.
On the eve of the Lync Conference, Cisco blasted Microsoft's unified communications solutions, pledging to write a blog on how its own products are superior.