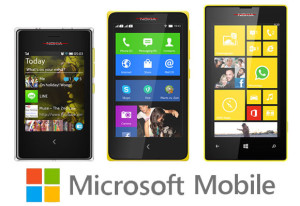 Microsoft today said that it will close the $7.2 billion acquisition of Nokia's handset business on Friday, about eight months after revealing the deal.
Microsoft announced the acquisition of Nokia's devices arm – and an associated patent deal – in September, when Steve Ballmer was still chief executive. At the time, Microsoft said it would pay approximately $5 billion for "substantially all" of Nokia's Devices & Services business and $2.2 billion to license a broad portfolio of Nokia's patents.
"The transaction will be completed this Friday, 25 April, when we'll officially welcome the Nokia Devices and Services business as part of the Microsoft family," wrote Brad Smith, General Counsel, Microsoft, in a short blog Monday.
By closing the acquisition Friday, Microsoft will come in just under the wire: Previously, Nokia had said it expected to finalise the deal this month.
China was one of the last countries whose regulatory agencies gave the acquisition a green light.
According to reports last week based on alleged messages from Microsoft and Nokia to customers and suppliers, Nokia's Devices and Services division will be rebranded as Microsoft Mobile Oy – "Oy" is the Finnish equivalent to "Ltd." or "LLC," a limited liability company in the U.K. and the U.S., and to "GmbH" in Germany – and serve as a wholly owned Microsoft subsidiary. Microsoft Mobile will be headquartered in Espoo, Finland.
Microsoft did not immediately reply to a request to confirm the subsidiary and its name.
Stephen Elop, formerly the CEO of Nokia – and before that an executive at Microsoft – will lead the subsidiary, which will have more than 30,000 employees.
Smith also noted some last-minute changes to the acquisition deal, including a transfer of 21 Nokia employees based in China to Microsoft; the cancellation of the transfer of Nokia's manufacturing facility in Masan, South Korea, to Microsoft; and Microsoft's plan to manage the nokia.com domain and Nokia's social media sites for up to a year.
Smith also touted the deal, as other company executives have regularly done for months. "This acquisition will help Microsoft accelerate innovation and market adoption for Windows Phones," Smith wrote. "In addition, we look forward to introducing the next billion customers to Microsoft services via Nokia mobile phones."
Analysts, however, have remained skeptical about whether Microsoft can seriously contend with Apple and the plethora of smartphone makers that use Google's Android, even with control over device design and manufacturing.
Researcher IDC, who once believed Windows Phone would have a larger share of smartphone shipments than Apple's iOS by 2016, recently forecast that Windows Phone will account for a 4.8% share that year, compared to Apple's 14.7% and Google's 77.5%.
Originally published on
Computerworld (US)
.
Click here to read the original story.
Reprinted with permission from
IDG.net
. Story copyright 2018 International Data Group. All rights reserved.