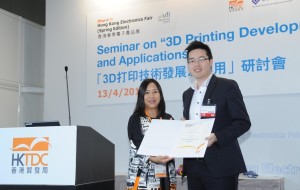 Held at HKCEC, the eleventh edition of Hong Kong spring electronics fair and the International ICT expo concluded last week, with exhibitors and visitors from all over the world coming together to see the latest products and technologies in these fields. The new technologies included everything from 3D printing and wearable technology to augmented reality, smart devices, security and data centre products and solutions, truly giving a glimpse of the new era, we find ourselves upon.  Read on for an overview of the event. 
Organisers of Asia's largest spring electronics fair and the International ICT Expo, Hong Kong Trade Development Council (HKTDC) concluded both events in its 11th edition last week. Held at Hong Kong Convention and Exhibition Centre (HKCEC), the four-day twin events saw more than 3,300 exhibitors and 60,372 visitors from all over the world, to experience the latest in electronics and ICT markets.
Fair highlights
An annual affair for most visitors, this time around they were able to encounter novelties in 3D printing and smart devices technology, both markets having matured a great deal in the last few years. Spread across 65,210 sqm, the event featured new zones such as Small Order Zone, where buyers could buy products in a small quantity, as it is easier to test the market viability with smaller quantities. At the ICT event, the expo had new zones for telecom, network and data centre and another for mobile and digital marketing. The other highlights of the events included the apps zone, business apps on cloud and mobile, computer and peripherals, e-logistics and retail technologies, invention zone, i-World, hall of fame, enterprise solutions and IT outsourcing, home-grown innovations, smartphones and tablets and also wireless technologies.
Apart from showcasing cutting-edge products and emerging technology, the shows also held a number of seminars on various topics such as 3D printing, e-payment on social networks and mobiles, data centre and cloud, Big Data and analytics for retail and Internet of Things, among many others.
The final report from the organisers indicated that buyers came from more than 140 countries and regions. Aside from Hong Kong, the majority of buyers hailed from Chinese mainland, Taiwan, the United States, Korea, Japan, Russia, India, Australia, Germany and the United Kingdom. At the Electronics Fair, most of the Asian countries and regions recorded an increase in attendance, including India, the mainland, Singapore and Taiwan. Buyer participation from several emerging markets recorded double-digit percentage growth, including the United Arab Emirates, Iran, Poland and Colombia.
Well-known brands and retailers as Best Buy from the United States, China Mobile from the mainland, Groupon Korea and Hyundai Motor Group from Korea, Ozon.ru from Russia, SoftBank Mobile Corp from Japan and The Mall Group from Thailand sourced at the two fairs.
Emerging technologies
It was evident that the 3D printing market has come a long way from its initial days, considering the large number of exhibitors in this category as compared to its previous editions. With immense potential to transform various sectors such as healthcare, real estate, education, entertainment, art design, toy and sculpture, aviation and manufacturing, this technology is definitely something to watch out for. However, like everything that is new and emerging, one must first understand the complexities that come with it, one of it being patent issues.
"It is a disruptive opportunity for innovators who can meet customers' demands. However, we need to think about infringement laws and patent issues," said Andrew Young, VP, Hong Kong Science & Technology Parks Corporation.
Vincent LAM, Consumables Sales Manager, Stratasys AP, added, "We believe 3D printing is not new, it has been around for three decades. However, today it can revolutionise how things are made."
And, Hironobu Matsui, President, Matsui Mfg Co.and Founder & Secretary General of the Association of Green Molding Solutions further said, "3D printing allows rapid prototyping and can apply to mass production by converting metal power to mold using laser and milling process. Printed mold has a fast delivery time."
It is definitely a point of interest for many and as its disadvantages such as high cost and time consuming factor becomes less of a concern, it will introduce even more opportunities for all stakeholders involved.
Wearable technology was another prominent theme at the event. From Beats beanie to hand gloves that can answer calls, players are expecting to see even more ground-breaking products in this field. However, the industry professional acknowledge the fact that these products need to add real value in consumers' lives if it is going to be an integral part of life as smartphones are today. Currently, we see customers purchasing wearable products as a style statement but do not use for more than three to four months.
"Less than 50 percent use their wearable devices after three months," said Henri-Nicolas Olivier, Chief Executive Officer, ConnectedDevice. Olivier also said that wearable technology is more about software than hardware and are part of richer business models and will disappear into everyday life. "Wearable technology merges reality and social media, it is the next frontier for better life," he added. Explaining further, he said, when designing a product, it is important to ensure that it is not a duplication of the smartphone but operates as its extension – a valuable tip for all manufacturers and developers.
In another seminar that dealt with data centre and cloud, the panel members discussed what's in store and how this has evolved over time with the current trends. "Data Centre is for everyone, it is no longer a game for the rich. It has evolved from large users to SMBs. And trends such as mobile application growth, social media services, Big Data, virtualisation, private and public cloud and BYOD have further enabled its growth," said Lee Yuk Cheung, Head of Data Centre, HGC GlobalCentre.
Gery Messer, Managing Director, Asia Pacific, CenturyLink Technology Solutions, said,"70 percent of the budget traditionally goes on maintaining the infrastructure. However, within the next five years, 70 percent of infrastructure will be outsourced."
As increasingly, information becomes the key asset for all companies and storing data securely gains even more prominence, we can expect revolutionary innovations in data centres and cloud technology, going forward. And this is critical to stakeholders in not only Asian markets but even emerging markets such as the Middle East.
For those who missed out on attending this event, watch out for the Hong Kong Electronics Fair, Autumn edition scheduled for 13-16 October 2014.