Microsoft is powering its artificial intelligence technology to help the visually impaired, through the release of its new mobile app.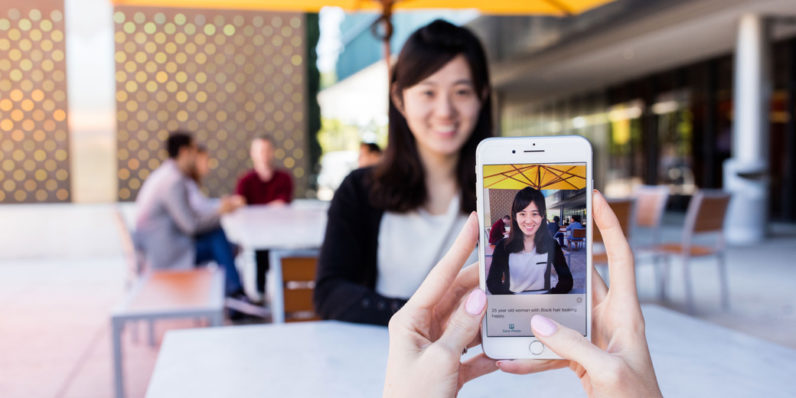 The company said on Wednesday that it's launching an iOS app called Seeing AI that uses an iPhone's camera to tell people about objects in front of them. The app showcases Microsoft's current capabilities in AI, while also aiding an audience that is all too often ignored.
The firm first revealed a prototype of the technology to developers as an add-on to smart glasses at its Build conference in 2016, but starting from today, the app is available free to download from the App Store in the US onto an iPhone or iPad.
It is currently unknown whether it will be available on Android or in other countries.
The app works in various scenarios. As well as recognising people it's seen before and guessing strangers' age and emotion, it can identify household products by scanning barcodes. It also reads and scan documents, and recognises US currency.
The technology's arrival on iOS is the latest example of Microsoft, under CEO Satya Nadella, embracing third-party platforms. For example, the company brought its SQL Server database software to Linux, and it has ported Office apps to the iPad. Most recently it added support for Apple's MacBook Pro Touch Bar in Office apps.
The announcement comes two days after Google introduced a new research initiative around improving the design of its own AI systems for users, professionals and researchers. Microsoft also said it will be developing a set of design guidelines for AI-infused features in products to ensure a greater degree of transparency and to emphasize ethics.
Additionally, Microsoft is in the process of reorganising staff within the artificial intelligence and research group that it formed in September. A Microsoft spokesman said that under the leadership of Eric Horvitz, the new Microsoft Research AI programme is designed to bring together around 100 people who specialize in different technologies categorised under AI, instead of having them spread out in Microsoft AI and Research, which includes around 6,000 people.