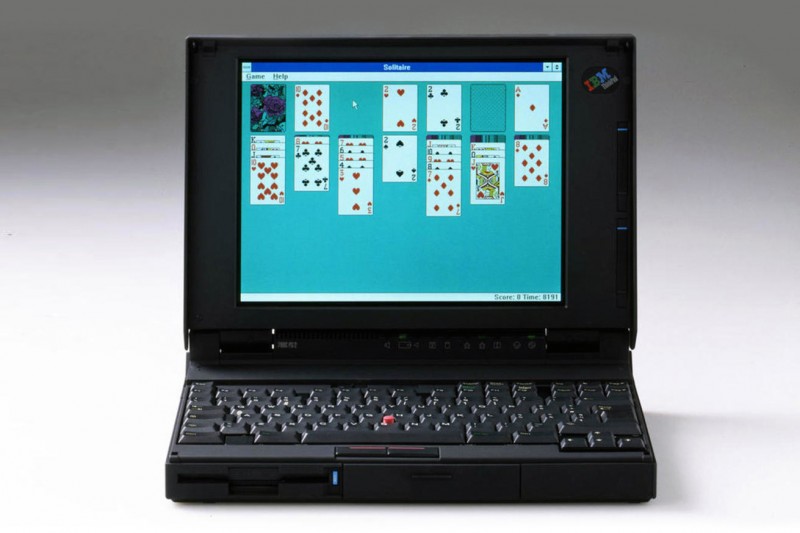 Inspired by the proportions of a classic, all-black cigar box with little styling or flair, the 700C was one of the first in a long series of IBM's ThinkPad notebook range.
The brand's identifying feature was its red track point mouse button between the G and H keys, that allowed IBM to waive a touchpad mouse. But what made the 700C model stand out from its predecessors – the 300 and 700, released alongside the 700C in 1992 – was that the C edition featured a colour LCD screen. A 10.4-inch display with a 256-colour spectrum was something of a luxury in the early nineties; one that didn't come particularly cheap, either.
The ThinkPad 700C retailed at $4,350 upon its initial release, and came with a 120MB hard drive. However, the device was power-hungry, and could only withstand three-and-a-half hours of 'normal' use after a full charge.
A year after it debuted, the ThinkPad became the laptop of choice for NASA's space missions.
Its inaugural mission was on the Space Shuttle Endeavour in December 1993. By that point, the 700C model had been further upgraded, and several 750s were loaded with diagrams of the Hubble Space Telescope to help astronauts repair it during the mission. ThinkPads continue to be used on the International Space Station today.
Lenovo bought IBM's PC division in 2005, taking the ThinkPad brand with it. Lenovo later toyed with the idea of reinventing the original ThinkPad – a pen-based tablet that was initially released in 1991. This model had little success, and the name was recycled for IBM's notebook range the year later.
The backwards-folding ThinkPad Yoga touchscreen tablet was unveiled in 2013 – just one of the 200 plus ThinkPad branded models that has succeeded the 700C.
Celebrating its twenty-fifth anniversary this year has sparked rumours that Lenovo could mark the occasion with a laptop that embraces the ThinkPad's past designs. The T92, as it is expected to be called, is rumoured to feature exposed screws, a 7-row keyboard and an array of status LEDs. It is also set to include the retro IBM logo in its original red, green and blue form.