Middle East homeland security market is on course for significant growth over the next five years, as governments from the region put significant focus on building smart, sage and secure societies.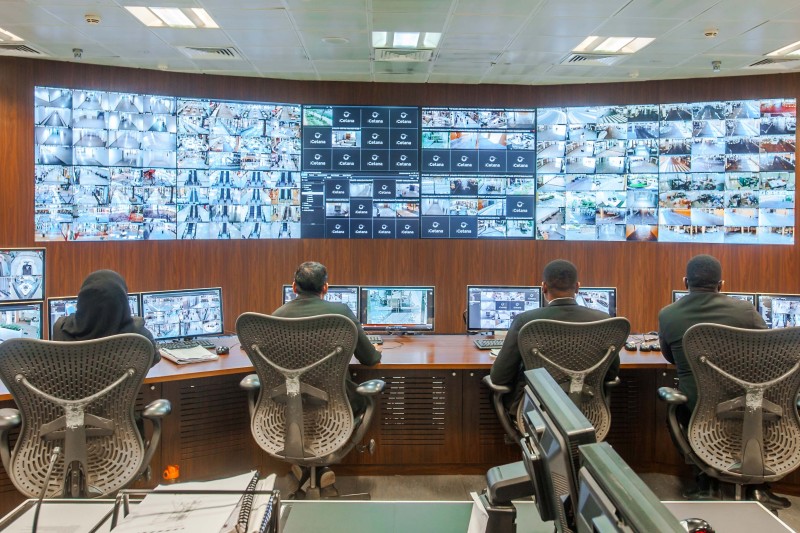 According to a recent study, homeland security market's revenues are expected to double in value from an estimated $9.6 billion in 2017 to $19.7 billion by 2022.
Analysts Frost & Sullivan (F&S) said that Middle East homeland security market, which includes monitoring and surveillance systems, restricted entry systems, and perimeter security solutions, will grow annually by 15.5 percent between 2017 and 2022, fuelled by security investments in major infrastructure projects and the ongoing expansion in the building and construction industry.
Saudi Arabia and the UAE dominate the regional market according to F&S, with Saudi holding a 45 percent share of revenue in 2017 at $4.3 billion, followed by the UAE with a 16.6 percent share at $1.6 billion.
Mega events such as the Dubai Expo 2020 and the Qatar FIFA World Cup 2022 are also seen as major drivers of the increase in investments in this market as as governments prepare to bolster internal security measures.
With technology's increasing role in the homeland security of nations today, Saudi Arabia has recently established a new authority for cybersecurity in the Kingdom. The government arm is aimed at boosting the cybersecurity of the state, and protect its vital interests, national security and sensitive infrastructure. It will also improve protection of networks, information technology systems and data. Meanwhile, in the UAE, the Emirate of Dubai had launched the 'Dubai Cyber Security Strategy' that aims to strengthen the emirate's position as a world leader in innovation, safety and security.
According to F&S, monitoring and surveillance will account for the largest share of the Middle East homeland security market, and is estimated to grow at a compound annual growth rate (CAGR) of 16.5 percent to reach $9.5 billion by 2022, from $4.4 billion in 2017.
Demand is high for integrated solutions, with regional governments prioritising public safety and security of critical assets.
The study comes as Dubai gears up for another edition of Intersec 2018, which aims to bring together global players to showcase the latest solutions on security, safety and fire protection.
The 20th edition of the three-day event takes place from 21-23 January 2018 at Dubai International Convention and Exhibition Centre, and features a Homeland Security & Policing Section.
More than 100 of the 1,300-plus exhibitors will showcase their frontline range of products and solutions at the dedicated show section, from airport security technology, armoured vehicles and Special Forces equipment to electronics, surveillance and detection systems.
"Vulnerability of large infrastructure has been a matter of concern for Middle East governments, prompting investment toward enhancing homeland security," said Ahmed Pauwels, CEO of Intersec's organiser Messe Frankfurt Middle East. "Internal police forces and public infrastructure projects, including street utilities, public car parking, stadiums, roads and buildings, will create huge demand as regional countries, especially in the GCC, look to create a smart and secure environment.
Ironically, one of the notable Homeland Security & Policing exhibitors at Intersec 2018 specialises in counter surveillance. Research Electronics International (REI), will feature its technical security equipment that protect against illicit information theft and corporate espionage.
The US-headquartered company will showcase a suite of portable technical surveillance countermeasures equipment that quickly detects electronic surveillance devices including hidden cameras and microphones, eavesdropping bugs, and other transmitters.
"There's a growing trend where traditional eavesdropping techniques are coupling with advanced technology to create a greater threat. Examples include GSM-modified wireless keyloggers, Wi-FI IP cameras, and security cameras being hacked using malware and infrared light. As technology advances, these trends will continue,"  said Michael Scantland, international sales manager, REI.
Intersec 2018 will occupy 60,000 sqm across 13 halls, with the show's other six sections covering Commercial Security, Fire & Rescue, Perimeter & Physical Security, Information & Cyber Security, Safety & Health, and Smart Home & Building Automation.
New developments include a Drones Pavilion and an indoor Drone Zone, while returning features include the Safety Design in Buildings Pavilion in the Fire & Rescue section, as well as an Outdoor Demonstration Zone of the latest fire rescue applications in action.
A comprehensive three-day conference programme will be spearheaded by Dubai's Security Industry Regulatory Agency (SIRA) Forum, while other topics will cover cybersecurity, drones, artificial intelligence, commercial security, and fire protection.
Intersec 2018 is held under the patronage of His Highness Sheikh Mansoor bin Mohammed bin Rashid Al Maktoum, and supported by the Dubai Police, Dubai Civil Defence, the Dubai Police Academy, SIRA, and the Dubai Municipality.