Toshiba has announced the latest addition to its SV series line up of 3.5 inch hard drives for surveillance applications. The new model MD06ACA-V is available in capacities up to 10TB with a higher transfer rate compared to previous model MD04ABA-V models, helping to enable support for higher resolution camera streams to meet changing compliance mandates for surveillance data.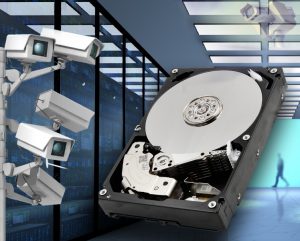 The MD06ACA-V series is designed for 24/7 streaming operation scenarios and is typically used for surveillance digital video recorders (SDVR), surveillance network video recorders (SNVR) and Hybrid SDVR. The MD06ACA-V series features 7,200 rpm access performance and the new 10TB delivers a 58 percent increase in maximum sustained transfer rate when compared to the previous model MD04ABA-V series. MD06ACA-V series has 237MiB/s.
Available in 6TB, 8TB and 10TB capacities, the new models provide a SATA 6Gbit/s interface, with a 256MiB dynamic buffer. Additionally, the MD06ACA-V models support AdvancedFormat (512e) technology for compatibility with legacy applications and operating environments.