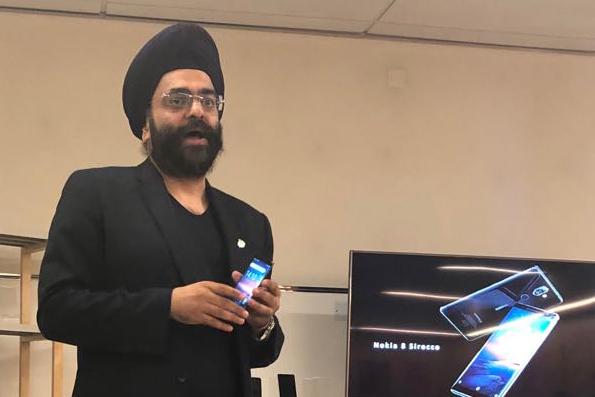 HMD Global, the home of Nokia phones, has announced five new devices on Thursday.
HMD launched Nokia 8 Sirocco, Nokia 7 Plus, new Nokia 6 and Nokia 1, and one sliding feature phone — Nokia 8110 with 4G.
The Nokia 7 plus and the new Nokia 6 are now available to buy from retailers in UAE. The Nokia 7 plus is available now from AED 1,399 across retailers in the country and comes in Black/Copper and White/Copper.
Available in Black/Copper, White/Iron and Blue/Gold, the new Nokia 6 is available now from AED 899 across retailers in UAE.
Meanwhile, the Nokia 8 Sirocco is retailing in the UAE this week, at an average retail price of AED 2,399.
Speaking to Tahawul Tech, Sanmeet Singh Kochhar, general manager, Middle East, HMD Global, said that the company is on track to reach its goal of becoming among the top five smartphone vendors in the next five years.
"We are focused on 'purposeful' innovations," said Kochhar. "We want to ensure that our products not only offer better user experiences but can also enhance the way our customers live."
Kocchar also highlighted that HMD Global's strategy is centred around building on Nokia's core values, which is focused on developing devices that are durable and have long-lasting batteries. "Our latest devices – Nokia 6 and Nokia 7 Plus – are carved out of a single block of aluminium whereas the more premium Nokia 8 Sirocco is shaped out of a single block of 2.5mm steel which has twice the structural integrity of a phone made out of aluminium."
More than hardware Kocchar also emphasised that Nokia is committed to bringing their customers the best software in a smartphone including security and user interface.
"Nokia 8 Sirocco, Nokia 7 plus and the new Nokia 6 ship with Android One. This OS offers a high quality software experience designed by Google," explained Kochhar. "The software gets regular security updates. Since, these new Nokia phones run pure Android, they come with no unnecessary UI changes or hidden processes that would eat up your battery life or slow it down so you can enjoy your new phone for longer."
As with all Nokia smartphones in the Android One programme, the new devices will come with a limited number of pre-installed apps so users can get more storage space.
With the latest technologies such as artificial intelligence, virtual reality and augmented reality impacting almost every industry, the smartphone market is no different.
In this regard, Kocchar reiterated HMD Global's commitment to innovation and without specifying the firm's plans he highlighted they aim to integrate the latest technologies such as AI and enhanced imaging capabilities into their devices this 2018.