Dubai, UAE, March 28, 2021: Milagrow Robots, a global leader in consumer robots, today announced its expansion into the Middle East region with the opening of its new office in DAFZA, Dubai. Milagrow's new office will help the company develop its global operations and strengthen its regional footprint to serve the growing service robot market. The robotics leader also signed a distribution agreement with Blue Ocean Global to promote and distribute its innovative floor, window, pool and lawn robots across the Middle East region.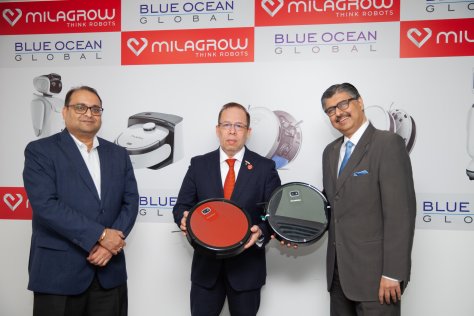 Commenting on the launch, Rajeev Karwal, Founder and Chairman, Milagrow, said, "The robotics market globally and in the Middle East continues to see increased growth, with rapid adoption of the technology across sectors such as healthcare, education, aviation, facilities management, hospitality and infrastructure. Milagrow is on a global mission to eliminate humans serving humans for menial tasks or domestic chores – be it floor cleaning, window cleaning, lawn mowing, air duct cleaning or humanoids replacing humans for repetitive tasks. Milagrow has robots for every sector, and our launch in the Middle East will bring us one step closer towards our global mission".
The company recently appointed TR Ganesh as the new Director of Global Business to oversee the company's growth and partnership initiatives through partner collaboration. In the first phase of its strategic expansion, Milagrow and Blue Ocean Global will focus on the company's consumer robot range, with the distributor facilitating operations across the United Arab Emirates for all retail channels.
"We are pleased to partner with Blue Ocean Global, a trusted and experienced partner, to help us expand our operations and distribution across the region. Signing with the distributor is a crucial step towards effectively promoting our technologies into the Middle East market. Our collaboration is founded on our shared vision on the critical need for robots and automation as the foundation to real innovation. This will empower transformation of everyday lives", commented TR Ganesh, Global Business Director at Milagrow Robots.
Blue Ocean Global, a UAE based company with offices in Europe, and representing some of the best technology driven brands, will take forward Milagrow's vision of making lives easier through technology by distributing its consumer robot range.
"It is a great opportunity to be partnering with Milagrow and being the first to launch their innovative technology in the Middle East. We are confident that our shared commitment to utilising technology for simplifying lives will help us expand Milagrow's portfolio to different markets", said Shahzad Ahmed, Chairman & CEO, Blue Ocean Global.
There is exponential growth in customer demand for automation in the Middle East as organisations continue to automate business processes. According to Data Bridge Market Research, the Middle East Robotic Vacuum Cleaner Market is growing with a CAGR of 17.1% in the forecast period of 2020 to 2027 and is expected to reach USD 874.79 million by 2027 from USD 250.83 million in 2019.
Milagrow floor robots are among the most independent, efficient and effective tools for cleaning. They operate with a powerful suction power, which makes them twice as effective and capable than their competitors. The company's lawn robots are equipped with robotic obstacle sensors, pressure sensors, bump detection sensors, touch sensors, rain sensors, and lift sensors. Milagrow's swimming pool robots can move with linear jet propulsion technology. With two drive motors, these robots can climb walls up to 1.8 meters (6 ft) without any difficulty. Additionally, the window cleaning robots are designed for minimal human interaction and reduce time and effort through robotic area measurement, robotic path management, robotic frameless cleaning, and robotic edge cleaning.
Milagrow Robots and Blue Ocean Global have plans on expanding across the GCC region and other markets, including Europe.