Dubai, UAE,17 February 2021: After putting its first Inventory Robot into action in 2019, Carrefour – owned and operated by Majid Al Futtaim in the UAE – has announced that it is expanding its robotic fleet, adding 11 more Tally Robots across select UAE stores to support with stock management and control.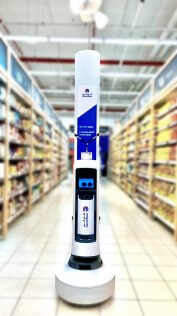 Tally was the first robot to be employed by a retailer in the Middle East, successfully increasing efficiency and supporting the growth of the online grocery segment for the brand. Weighing 30 kg and reaching a height of 163 cm, Tally and her robotic colleagues are equipped with cameras and sensors that make them capable of scanning up to fifteen thousand products, three times a day, checking for any stock errors, such as out of stock items, price mismatch, wrong barcodes, or stock misplacement. The robot assists with stock audits using a sophisticated system of artificial intelligence (AI), which support in reducing the workload for store team members.
Philippe Peguilhan, Country Manager of Carrefour UAE at Majid Al Futtaim Retail said: "Majid Al Futtaim is committed to pioneering tomorrow's retail, and we are constantly working to better our processes, enhance our efficiency and digitise our operations in the region. This is exactly what Tally Robot has achieved. With product availability, placement and pricing data fully automated, we can offer a more efficient and convenient service at our Carrefour stores, while freeing up our colleagues to be more focused on helping our customers with their shopping experience".
Following Tally Robot's success in the Mall of the Emirates, customers can find Tally on the floor of Carrefour stores in City Centre Deira, City Centre Mirdif, City Centre Me'aisem, Dubai Festival City, Ibn Battuta Mall, City Centre Ajman, Abu Dhabi Airport, Yas Mall, Jimi Mall, City Centre Al Zahia, and Cityland Mall.