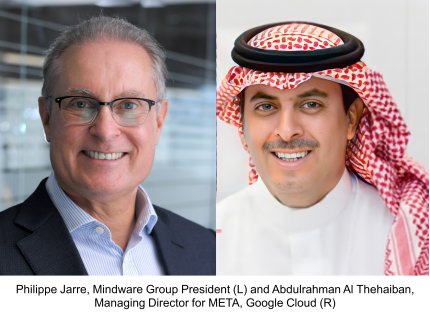 Mindware has announced the signing of a distribution agreement with Google Cloud to develop the channel and grow the business across the Middle East & North Africa region.
The agreement will see Mindware promote the Google Cloud portfolio and Workspace across the countries of United Arab Emirates, Qatar, Kuwait, Oman, Bahrain, Yemen, Morocco, Algeria, Tunisia, Libya, Egypt, Jordan, Lebanon, Palestine and Iraq. With the support of Google Cloud, the distributor will extend its portfolio with specialised solutions around Data & Analytics, API Management, industry-leading Artificial Intelligence (AI) and Machine Learning (ML) services for improved business outcomes, application development and delivery acceleration.
Mindware will deploy a strategy and methodology of addressing Google Cloud's requirements to expand its business in the regional markets. The company will deliver increased sales of Google Cloud solutions through a new ecosystem including Managed Service Providers (MSPs), Independent Software Vendors (ISVs), and leveraging the Mindware Cloud Marketplace and professional and support services.
With the Google Cloud portfolio, Mindware partners will be able to offer their customers the flexibility to migrate, build, and optimise applications across hybrid and multi-cloud environments, while minimising vendor lock-in, leveraging best-in-breed solutions, and meeting regulatory requirements. The collaboration will allow Mindware to strengthen its reach in the market, based on vertical solutions especially in the education sector, and the access to the open source ecosystem.
Philippe Jarre, Mindware Group President comments: "We strongly believe that the Google Cloud-Mindware partnership offers a unique opportunity for both organisations to succeed and grow in the market, particularly in the domains of data and AI. Mindware has a diverse range of solutions, allowing for cross-selling and upselling. With extensive market coverage and strong financials, we can adapt to market changes. Our ultimate goal is to become the preferred Cloud distributor in the Middle East and Africa, delivering aggregated Cloud solutions from various vendors, with a specific emphasis on data and AI capabilities. Collaborating with Google Cloud will add value to both companies, as we are going to leverage our capabilities to develop an expansive Google Cloud channel ecosystem and access hundreds of clients from different industries and market segments".
Google Cloud recently made an exciting announcement of a new Google Cloud region in Doha, Qatar. The new Doha region is now part of the company's global network of 37 regions and 112 zones that bring Google Cloud services to over 200 countries and territories worldwide. Google Cloud also announced plans to bring a new Google Cloud region to Dammam in Saudi Arabia, as well as Kuwait.
"The MENA market offers great potential. Mindware will support Google Cloud  in aggregating cloud solutions through a reseller ecosystem at scale, providing more organisations with greater access to the Cloud experts and technologies they need to drive positive business outcomes in the Cloud", concluded Abdulrahman Al Thehaiban, Managing Director for META, Google Cloud.