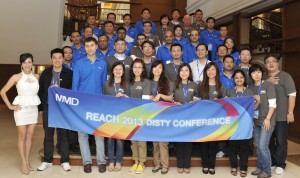 Multimedia Displays (MMD), a Philips subsidiary licensed through TPV, recently held its annual regional partner distributors' meet, Reach 2013, in Chiang Mai, Thailand.
Channel partners from the Asia Pacific, Middle East, Africa and Central Asia regions participated in the two-day event, MMD said. And partners such as Drive Control Corporation, ASBISC Enterprises, Gulf Shadows Computer Systems, Simurg, Technostar and Fire Bird Distribution took home awards for outstanding work in promoting the Philips brand and excellent sales of monitors.
The event also served as a discussion forum between Philips partners and management. The vendor's performance was reviewed for 2012, and senior management shared insight into trends and strategies for the monitor market across the globe, as well as in specific regions.
Philips business managers presented their plans, updating partners on key objectives and laying out a roadmap on strategies for 2013. The vendor also unveiled several new monitor models.
"Reach 2013 provided us a great platform to celebrate our progress and extend our application to all the Philips channel partners," said Suchit Kumar, Sales Vice President for MEA and Central Asia, MMD.
"Apart from acknowledging the efforts of our partners, we showcased our new innovative products and also exchanged ideas to further bring momentum in our efforts to continue this success with our partners in the region."